(Link only. Copy/Paste not allowed)
(SoapOperaNetwork.com) — Frank Valentini is the "Wizard of Oz" of ABC Daytime. Not only does he serve as Executive Producer of "One Life to Live," but he is also the go to man for when the network needs oversight of some of their biggest side projects. In 2008, Valentini directed the ESPN commissioned "Endless Drama" campaign in which "All My Children" actors Cameron Mathison (Ryan Lavery) and Rebecca Budig (Greenlee Smythe) and "One Life to Live's" John Paul Lavoiser (Rex Balsom), David Fumero (Cristian Vega), Bree Williamson (Jessica Buchanan) and John Brotherton (ex-Jared Banks) all appeared in a series of commercials depicting the drama brought to fantasy baseball. In 2010, Valentini directed ABC.com's "What If…" series which asked the question of what would happen if you're favorite characters from all of the ABC soaps were put together in situations unlike they've ever seen in their respective towns of Port Charles, Pine Valley and Llanview? In an exclusive interview with Soap Opera Network, Valentini shares his "Life" experience, provides insight in the audition process he follows for incoming actors, clears up talk of a new opening for his soap and where he sees the soap headed in the next six months.
Before taking on executive producer duties at "One Life to Live" eight and a half years ago, Frank Valentini had held numerous positions at the drama series including that of stage manager, associate producer and lead director. While being escalated to the top job of one of daytime's longest running soaps would be a dream come true for many people, Valentini took on the position with the understanding that he'd continue to do the thing he loved most – directing. "I've always loved directing. It is something I didn't want to give up," said Valentini. "I've directed all the auditions on the show for the past 17 years. I still believe that it is important for the executive producer to direct the auditions to see what the actors can really do. Sometimes people can do a good test and then not necessarily deliver. Directing in general is just really fun. It is a great creative outlet and it also helps me stay in touch with the actors and the crew and even get my hands dirty."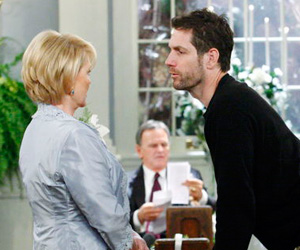 With the help of head writer Ron Carlivati, "One Life to Live" has finally founds its voice. The Buchanan clan lead by Clint Buchanan (Jerry verDorn) and Viki Banks (Erika Slezak) have once again been put in the forefront with storylines that rivals that of the Ewing family in the primetime soap "Dallas." The soap opera has aired groundbreaking storylines including that of same sex marriages/parenting, breast cancer and currently bullying in schools. The change in direction has brought in a new generation of fans to the long running soap opera and a clear message of where the show is going. So what was the turning point? What element can be credited for bringing out "One Life's" many voices? "It's interesting because I think the voice came from the fans," Valentini shared. "I think we really listened to the fans. I have a terrific head writer [Ron Carlivati] and a wonderful team of writers that are sensitive and emotional, intelligent and crafty, and are great storytellers. But I think we just listened to the audience. They told us what they wanted. They told us who they wanted to see. Of course the Buchanan's are a big part of 'One Life to Live' and always will be. The new generation is coming in and we're also balancing the Buchanan's out with other families by providing a show that reflects life in a much more realistic way. We're representing people who are not necessarily rich like the Buchanan's are and representing people who've had different kinds of challenges because I think that's our responsibility to mirror society," he continued.
In 2012 the Walt Disney Company will cease operations of SOAPnet which launched in January 2000 as the home to watch soaps at night, so what does Valentini think will happen when the channel becomes Disney Junior and SOAPnet's "One Life" fans are left without their favorite program? "I think we will all have to wait and see what happens in January, but it could potentially be great because we'll get that audience to come back. Even if they don't watch the show at 2 o'clock [when the show airs in the eastern time zone] or 1 o'clock [central and pacific time], they can DVR it, like they would sometimes DVR it on SOAPnet. It could really be a good thing," Valentini said while giving insight into the time frame left for the cable network.
In our everyday lives we are often asked "where do you see yourself in the next five years?" One can never say for certain they will be going from A to B to C during that time, but where does Valentini see "One Life to Live" in say six months? "We've got some great Summer stories going with the kids and a big story this Spring for Bo [Robert S. Woods] and Nora [Hillary B. Smith] and Matthew [Eddie Alderson]. Great stories for Tess and Ford [David A. Gregory] and John [Michael Easton] and Natalie [Melissa Archer], Todd [Trevor St. John], Blair [Kassie DePaiva], etc. All the people everybody wants to see. A lot of great stuff happening," said an enthusiastic Valentini.
The biggest question that fans have been wanting to know is whether or not "One Life to Live" will join "All My Children" and "General Hospital" in receiving a new opening sequence, so who better to ask than the shows top executive (remember Ron Carlivati told us to ask him)? "Not currently," the producer revealed. "It's not a huge priority. Our priority is to put out the best show that we can and if at some point an idea for an open hits us, that makes sense, then that is what we'll do," said Valentini. Though he did take the time to mention one of the most iconic themes the soap has ever had after being asked about the shows continued respect to its history and music as it did in the past year in original episodes and repeat airings. "People are always excited about the Peabo Bryson version of the open. They [fans] love that song, 'here's what you do when you don't find the rainbows end.' We've had Blair sing it on a couple of shows during the musical. We had Brittany Underwood [Langston Wilde], Jason Tam [Markko Rivera], Kristen Alderson [Starr Manning] and a whole bunch of different people sing it. It's just a fun thing to do. It's an extra treat. We're always trying to surprise and delight the audience."
Look for Valentini to go behind the camera once more as he revealed that he has recently been in the director's chair for some of the shows upcoming episodes. "I have a couple of episodes coming up that I've directed that are really fun."
"One Life to Live" airs Weekdays on ABC. Anytime on ABC.com.
P.S. For fans of the Peabo Bryson theme, below we hope you enjoy Bryson singing the full theme in an episode that aired in the 1980's on the soap.
(Pictured: Erika Slezak getting direction from Frank Valentini during a break in shooting on the set. Photo: George De Sota/JPI)
All My Children
Rebecca Budig
Michael Easton
One Life to Live
General Hospital
Port Charles
Kassie DePaiva
Frank Valentini
Erika Slezak
Kristen Alderson
Jason Tam
Hillary B. Smith
Robert S. Woods
Melissa Archer
Ron Carlivati
Llanview
Bree Williamson
Brittany Underwood
Pine Valley
Trevor St. John
Jerry verDorn
John Brotherton
John Paul Lavoisier
Eddie Alderson
Cameron Mathison
David Gregory
David Fumero
Peabo Bryson