(SoapOperaNetwork.com) — "One Life to Live's" Kim Zimmer (Echo DiSavoy) began appearing in the Off-Broadway play "Love, Loss and What I Wore" on February 16. In an exclusive interview, Soap Opera Network spoke with the star about her role in the play, her character on "One Life to Live" and what she'll be doing after her run with "Loss" comes to an end.
You went from 'Guiding Light' to 'One Life to Live' and now you're starring in an Off-Broadway show. What attracted you to 'Love, Loss and What I Wore?'
The opportunity to work on stage again. I love "One Life," but I'm still just not [pauses]… I come here, I do a little bit here, but It's not enough work for me. So I told my agents, I need something to keep my brain going because doing a soap is like I can do it in my sleep. I love what I'm doing. I love working at 'One Life to Live.' I love the people. I love Frank Valentini ["One Life to Live" Executive Producer]. I love the show. I'm so happy there. But I really needed something a little more. So they put the feelers out and they had other clients in 'Love, Loss and What I Wore' so they pitched my name and they were like 'Oh my god! Would she do it?' and they were like yeah.
Tell us more about 'Love, Loss and What I Wore.' Is it really just monologues? Are you playing any particular character?
Each monologue is a character. So, for an actress it's fantastic because you get to put on all of these different personalities. Some of them are me. I do this whole monologue about a purse and it's so me. I mean it is about how much I hate purses. When I read the monologue I was like 'Oh god, I hope they give me that monologue' and they did because it is just so close to me. I carry bags, I don't carry purses, unless they go over my shoulder, but purses with handles? No!
Would you be interested in doing another play after this one is over?
It looks like I'm going to be. I can't say right now what it is, but I may be doing the soap, doing this at night and rehearsing another play during the day. I'll let you know when it all happens.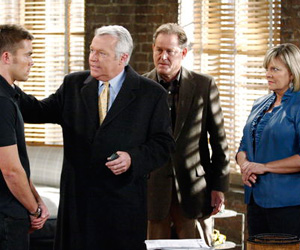 Let's talk about 'One Life to Live' for a hot minute. Rex is your son with Clint and not with…
[Zimmer answers in character]
Charlie! Well I knew from the moment that I showed up in Llanview that Clint was the father of the baby. There was never a question in my mind. I wanted Clint to confess that he was the father and take pride in having Rex [John-Paul Lavoisier] as his son. Clint wouldn't do it. I had then fallen in love with Charlie and knew that using the kid, which could have been his… I mean it was kind of devious to begin with, but then Clint blackmailed me, so I had to stick with the whole lie and it is going to come back and bite me on the ass big time.
By going to BroadwayOffers.com, Kim Zimmer fans interested in seeing her on stage can purchase a ticket to see the show for only $45 (only when used with code LLSKZ75). Zimmer's final appearance in "Love, Loss and What I Wore" is scheduled for Sunday, March 20, so act fast.
TERMS & CONDITIONS
Offer valid now through March 20, 2011. Offer is valid for web sales through BroadwayOffers.com only. Latecomers will not be seated. Cast subject to change. Phone and online orders subject to normal fees. Not valid for prior purchases. Not combinable with other offers. All sales are final. Limit of 8 tickets per order. Offer may be revoked at any time. The Westside Theatre is located at 407 West 43rd Street (between 9th and 10th Aves).
(Photo: George De Sota/JPI)
One Life to Live
Guiding Light
Kim Zimmer
John-Paul Lavosier
Off Broadway
Love, Loss and What I Wore