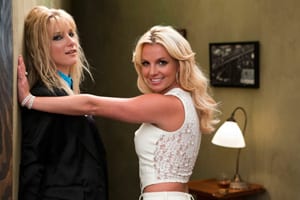 On the Tuesday, September 28 episode of pop phenomenon "Glee," singer and actress Britney Spears finds herself the subject of music and mayhem as the cast of the primetime drama series sings all about "Britney Britney." In the episode, look for a number of song and dance numbers spanning Spears' long career in the music industry, including numbers off of her CD's "Baby One More Time…," "Oops! I Did It Again," "Britney," "In the Zone," "Blackout" and "Circus."
In the episode, Glee's cast of characters try to persuade their New Direction's teacher Mr. Schuester (Matthew Morrison) to let them pay homage to Britney Spears just as they did to Lady Gaga in season one. Unfortunately, Mr. Schue ignores their wishes and leaves them in dream land when they each pay a visit to the dentist. The visit to the dentist is said to "bring out the musical numbers and the all-but-official Britney cameo," according to Zap2it.com.
In the image represented above, actress Heather Morris, who portrays Brittany (how fitting) in the series, will be performing two songs including "Me Against the Music" off of Britney Spears' fourth album "In the Zone," which was released in 2003. The song was made into a duet between Spears and her idol Madonna. It is unclear at this time whether or not the show will turn the song into a duet as well, but from the image we can confirm that Spears will in fact be making an appearance in the episode.
Look for John Stamos to debut as the dentist, Carl Howell, who is a potential new love interest for Emma (Jayma Mays).
"Glee" airs Weekly on FOX. Anytime on FOX.com.