Monday, August 24, 2009 8:39 AM ET | By Venus Stone

---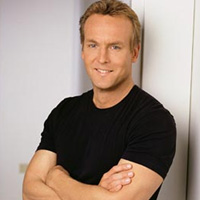 (SoapOperaNetwork.com) — Desperate situation…
THIS WEEK ON: THE YOUNG AND THE RESTLESS
Phyllis has some suspicions about Sharon. Lily begins to realize that Cane isn't the man she should put her trust in. Billy has a decision to make: sign the divorce papers or not.
The Inside Story: Desperate Measures
Thinking he's spotted his sister Patty heading upstairs of the GCAC, he tells J.T. that he needs to see if it's really her, and heads up after her. Entering her suite after her, Paul is stunned to see that it is Mary Jane. He quickly starts to call the police but Mary Jane stops him dead in his tracks when she announces that she is really Patty. J.T., who is still downstair waiting for Paul to return, begins to wonder what has happened to him, and heads upstairs and gains entrance. He notices that there was a struggle in the room and quickly calls the police to inform them that Paul has gone missing. Mary Jane/Patty, meanwhile is forcing Paul at knifepoint to drive away from the club. The two of them start to argue, which causes her to become upset. When Paul stops the car suddenly, he is accidentally cut with the knife. Relieved that she didn't seriously hurt her brother, Mary Jane hands over the knife. They soon hear police sirens and Paul makes the hasty decision to hide her at the very church where she made her confession to Father Todd. Paul soon calls his brother to let him know that he has their sister but needs to keep her safe. He's then given a name of a priest at St. Jude's Church. Meanwhile, J.T. lets Heather know about Paul and she is worried that he's in serious danger. Her fears mount when J.T. learns that Paul's car has been found with traces of blood on the seat. Paul, on the other hand, wants to know why Mary Jane came back to Genoa City. When she tells him she came back for Jack, Paul is beside himself. The more she continues to talk about Jack, the more Paul realizes that his sister has really lost touch with reality. After more talking and pleading, Mary Jane allows Paul to contact J.T. but makes him promise not to alert the authoritiies. Unfortunately for both of them, J.T. is already with Heather and Chance, who both want to know where they are.. J.T. arrives but Paul is upset that Heather and Chance tagged along. Paul does his best to tell Heather that Mary Jane is really her aunt Patty, telling her not to reveal her identity. Heather, however, doesn't listen to Paul and opens her mouth telling Chance who she really is. Things don't look good when Heather's attempts to get Paul to do the right thing in turning his sister in don't work. Instead, Paul calls the media to the church and all are stunned, including Jack, to see Paul defending Mary Jane. Meanwhile, Mary Jane calls Jack and drops another bombshell on him: she's pregnant. Unable to grasp what's going on, Jack makes his way to the church. Paul, meantime, trying to protect his sister, tries his best to convince Owen to have Mary Jane placed under house arrest the same way Victor had Adam. When Owen balks, Paul issues out a serious warning: no deal, he'll let all of Genoa City know that there are two sets of rules; one for the powerful and one for everyone else.
A Closer Look: Strange Behavior
Victor informs Ashley that Jack is seeking to have her committed and that he's set up a court-ordered psychiatric evaluation. Ashley becomes furious that her brother would do such a thing to her and automatically comes to the conclusion that Jack is doing this all to get even with Victor. Victor tells his wife that he's not going to let Jack do anything to her but she tells him that she's going to take care of Jack herself. She calls him to come to the Newman ranch and tells him that she wants him to call off the evaluation because it would be an embarrassment to the family if they found out. Jack tells her that they agree with him that she should be looked after and she hits the roof. When he leaves Ashley nervously confides all to Adam. Seeing an opportunity to keep Ashley in his hold, Adam convinces her that he will help her convince the doctor that she is not going crazy. Meanwhile, Jack arrives with Dr. Jamison, and alone, she starts the evaluation; to which Ashley passes. When the doctor returns downstairs, she tells Jack and Victor that nothing is wrong with Ashley except suffering from post-traumatic stress disorder and that there is no need to have her in in-patient care. Jack, not pleased with her findings assumes Victor paid the doctor to lie. Alone upstairs, Ashley tells Adam how thankful she is to him for helping her. She heads to her room but asks Adam to lay beside her until she's able to fall asleep. Adam's at first hesitant to do so, but gives in, letting Ashley fall asleep in his arms.
What To Watch
Victor offers up some work for Gloria and Jeffrey
Jill is hit hard that she has to pay big time
Billy contemplates fighting for Chloe's heart
The Young and the Restless News and Headlines
Doris Hensel returns as "Doris", Sharon's mother on Friday, August 28
Laura Saltman, correspondant for Access Hollywood will come to the show in a cameo appearance as gossip columnist, "Sonia Wells" who wants to get the scoop on Phyllis and Nick. Her appearance is Monday, August 24
Christian Jules LeBlanc and Jeanne Cooper, who play "Michael Baldwin" and "Katherine Chancellor" will make a cameo appearance on "Guiding Light" in its final episode. No word yet on who they will be playing in the final episode.
On Friday, August 28, 2009, The Young and the Restless Fan Club Dinner will be held at the Sheraton Universal Hotel in Universal City, California from 6pm to 11pm. Fans will get the chance to get up close and personal with their favorite Genoa City residents. Pictures and autographs will be available along with some very special surprises planned for the evening. Tickets are available on a limited basis only so it is important to order now. The cost per person is $170. which includes dinner, tip, tax, photo autograph book and much more. The deadline is August 21st, 2009. Please visit Young and the Restless Fan Club Dinner for more detailed information.
SON Top 10: Who was the best of the best on "Y&R" during the week of August 17, 2009? You decide! The SON Top 10 is back! Voting begins Friday's at 4:00 PM, EST.
SON ALERTS: WEEK OF AUGUST 31, 2009
Traci comes back to see about Ashley
Ashley learns what really happened during the rainstorm
Adam's lies start to catch up to him again
"The Young and the Restless" airs Weekdays on CBS. Weeknights on SOAPnet. Check local listings.
---
---
You may not reproduce content without written permission from author.

© 2009 Soap Opera Network. All rights reserved.
Discussion: Y&R PreVUE: Week of August 24 Edition
---