Friday, August 7, 2009 8:00 AM ET | By Scotty Gore
---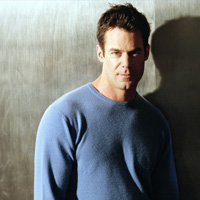 (SoapOperaNetwork.com) — Llanview reality
THIS WEEK ON: ONE LIFE TO LIVE
Rex and Gigi have it out over her kiss with Schuyler. On Friday, August 14, Kim, Stacy's stripper friend from Vegas arrives in Llanview, to tell what she needs to do to hold onto Rex. Rachel has mixed feelings with regards to Greg. Dr. Vivian Wright, Greg's co-worker and occasional date, picks up on the pair's chemistry on Thursday, August 13. Jessica tells Marty that she thinks she sees dead people, and later makes a discovery in the bushes. Jared and Natalie receive an unmarked DVD containing video of Nash's fall through the skylight that resulted in his death. Markko is strapped for cash. John thinks Mayor Lowell is up to no good. The Llanview Hospital board meets to discuss the possibility of Marty being reinstated. While Viki is favor of the idea, Mayor Lowell is very vocal in his opposition to the move. In the end, Dorian casts the deciding vote in Marty's favor on Wednesday, August 12. Cristian won't leave the apartment so Fish and Layla can spend a romantic evening together, until he tells her the truth. However, after calling his parents, Fish gets intimate with Layla on Thursday, August 13. Later, Cristian isn't sure what to think after learning of Fish and Layla's night of passion. And John tells Marty that she can have as much time as she needs before she is ready to take their relationship to the next level again.
The Inside Story: Prepare to Meet Your Match
The judge decides there is enough cause for Matthew's case to proceed. Téa faces off against the Buchanan's new hotshot lawyer, Elijah Clarke, who claims to know her big secret on Monday, August 10. Viki leaves Todd with her thoughts of his relationship with Téa. Blair insists to Dorian that, while she is through with Todd, she doesn't want Téa to have him. Hell bent on airing her rival's dirty laundary, Blair enlists Rex to do her leg work on Tuesday, August 11. Téa is furious to learn that Todd has hired Elijah to help him regain custody of his kids. Later, she pulls a mysterious briefcase out of her closet. Rachel won't testify on Matthew's behalf, however Greg is more willing to do so, much to her dismay. By Friday, August 14, Rex shares the results of his findings with Blair, stating that it appears Téa vanished into thin air between the island rescue and her return to Llanview late last fall. Armed with the new information, Blair instructs Rex to locate Ross Rayburn. And Elijah continues to taunt Téa, admitting that her relationship with Todd could suffer if the truth were to come out.
A Closer Look: Hosed
Still nursing her hangover, Dorian is taken aback to find David on her doorstep. When flattery gets him nowhere, David resorts to telling Dorian the true nature of his visit on Tuesday, August 11. However, Dorian in none to pleased when David pitches his idea of turning the lives of the Cramer women into a new reality show. Dorian sends David and his camera crew scrambling for cover when she attacks them with a garden hose. After learning of David's latest stunt, Langston suggests that Markko would be great as the cameraman for David's new show on Wednesday, August 12. Rejected by Dorian, David pays a visit to Viki, hoping she will have a better reaction to his proposal. Much to his dismay, however, Viki says no to allowing Llanfair to be the sitting of a reality show on Thursday, August 13. Meanwhile, Jessica incorrectly believes that David's producer Ford is her stalker. At the same time, Brody uncovers proof that the mystery man really exists.
One Life to Live News and Headlines
OLTL ALERTS: WEEK OF AUGUST 17, 2009
David channels his inner Buchanan and attempts to worm his way into his newfound family's good graces. (SOAPnet)
Marty is surprised to learn she has been appointed Todd's therapist. (Soap Opera Weekly)
---
Discussion: OLTL PreVUE: Week of August 10 Edition
---