Sunday, August 9, 2009 11:37 PM ET |
By Venus Stone
---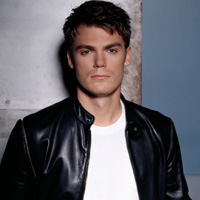 (SoapOperaNetwork.com) –Picking up the pieces…
THIS WEEK ON: GUIDING LIGHT
Things begin to heat up between James and Daisy, when a kiss turns into something more. Frank has a hard time accepting that Buzz is putting his faith in Cyrus. Olivia continues to have a hard time living knowing Natalia may never return to her.
The Inside Story: Heartaches

Shayne questions Bill on whether he knows where Dinah is. Realizing that Dinah's goodbye was for good, Bill is crushed. Shayne admits that if he saw her again, he wouldn't know what to say to her. Meanwhile, Marina shares with Vanessa how she believes Dinah to be incredible for finding Henry. When people start talking about Dinah, Shayne steps up and defends her. Vanessa finds him and opens up about how Dinah probably had difficulty opening up to him due to her need to be the right type of person. Handing her his and Dinah's wedding rings, Shayne requests Vanessa to give them to her. In the meantime, Bill and Josh are surprised to hear that Billy plans on marrying Vanessa again Josh prays that it's a good thing for the Lewis family. Alone, Billy tells Vanessa he wants to marry her but wants to find the right way in asking her. Unable to shake his broken heart, Shayne quickly busies himself by helping Bill with the house Reva, on the other hand, is having her share of hard times coping with life without Jeffrey. When her sink acts up, Reva quickly calls Josh for help. When he arrives, he manages to fix it and later requests if he can stay to keep her company, but Reva kindly declines. Reva, who is lonely calls Olivia to find out if she's heard from Jonathan. Reva later has an emotional breakdown when she accidentally leaves Colin in the car while she's at the store. Later, alone at home, Reva surrounds herself with pictures of Jeffrey and admits she now feels safe now that he's around her.
A Closer Look: Working Hard to Bring Family Together
Determined to make his daughter happy, Phillip gets up early to start work on their home and tries his best to get James to wake up to join him. Bill and Lizzie arrive and see Phillip hard at work and are astounded at how early he's working. Leaving Bill and Phillip to working on the house, Lizzie calls Beth to tell her that Phillip is there working on the house and for her to come over. Alone with Bill, Phillip tells him that he wants to make sure that Lizzie has a home and is taken care of. When Phillip sees Beth and Matt together, he begins to try hard to get them together, but Beth wants him to stop. Bill and Lizzie comment on how strange it is to see Phillip so happy. James and Phillip soon get into an argument and Matt has to break it up. Things heat up again when Phillip chatises James for horsing around, causing him to storm off. Beth warns Phillip that he needs to give James time but Phillip retorts that there isn't time. Meanwhile Phillip's reading books on alternative healing when Lillian asks how he is feeling. Later on, Christina spots him reading and informs him about a woman she knows who knows about miracle cures. When he goes to the herbal store and talks to her about his illness, she tells him that people in Mexico would be able to help him. Phillip later makes up his mind that he is going to head to Mexico to take control of his life and seek out help in miracle healing.
What To Watch
Rafe takes pleasure in making Olivia miserable
Shayne finds himself in trouble
Guiding Light News and Headlines
Jessica Leccia returns as "Natalia", Monday, August 17
Melissa Hayden will reprise her role as "Bridget Reardon" Monday, September 14
Morgan Englund reprises his role as "Dylan Lewis" Monday, September 14
Fiona Hutchinson reprises her role as the ghostly "Jenna"on Thursday, August 13
Maureen Garrett comes back to Springfield as 'Holly Lindsey-Reade. She returns to the show Wednesday, August 26
Guiding Light will donate a portion of its wardrobe to New York's Bottomless Closet to help economically disadvantaged New York City women enter and succeed in the workforce. Guiding Light will provide the organization with the show's stock of women's business appropriate clothing, shoes, jewelry, handbags and accessories. Please visit Bottomless Closet or call 212-563-2499 for more detailed information.
Frank Dicopoulous ("Frank Cooper") will be the honorary chairperson for FAAN Walk for Food Allergy: Moving Toward a Cure in Long Beach, NJ on Saturday, September 12. Please visit FAAN for more detailed information.
Murray Bartlett ("Cyrus") and other daytime stars will set sail on Soap Cruise, the Third Voyage on Thursday, January 28 until Monday, February 1, 2010. Please visit Soap Cruise or call 1-888-381-4654 for more detailed information.
SON Top 10: Who was the best of the best on "GL" during the week of August 3, 2009? You decide! The SON Top 10 is back! Voting begins Friday's at 4:00 PM, EST.
SON ALERTS: WEEK OF AUGUST 17, 2009
Lizzie wants to know where Sarah is
"Guiding Light" airs Weekdays on CBS. Check local listings.
---
---
You may not reproduce content without written permission from author.

© 2009 Soap Opera Network. All rights reserved.
Discussion: GL PreVUE: Week of August 10 Edition