Tuesday, July 21, 2009 3:26 AM ET | By Scotty Gore
---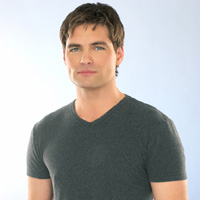 (SoapOperaNetwork.com) — Is "Guiding Light" hunk Daniel Cosgrove headed to "One Life to Live" as the next Joey Buchanan? The answer is yes, according to two popular soap news magazines.
Both Soap Opera Weekly and Soap Opera Digest have gone on record as stating that Cosgrove and "OLTL" are thisclose to finalizing a deal to bring him to Llanview as Viki and Clint's youngest son Joey, which SON recently reported on.
The character was last portrayed by "Castle" star Nathan Fillion during "One Life's" 10,000th episode celebration in 2007 (and originally from 1994-97). Should Cosgrove step into the role, he would become the seventh actor to tackle the long-time character. Other actors in the role have included Ryan Morris (1982-83), John Paul Learn (1983-90), Chris McKenna (1990-93), Don Jeffcoat (1997-2001), and Bruce Michael Hall (2003 and again in 2004).
If "One Life" manages to land Cosgrove, it would most likely be fall before he would arrive in Llanview, given the fact that "Guiding Light" is expected to air until September 18th. It also remains to be seen is his "GL" co-star and "OLTL" vet Gina Tognoni (ex-Kelly Cramer) would be returning as well.
As for Joey's big brother Kevin Buchanan, a "OLTL" spokesperson tells Soap Opera Digest that "there are no plans to bring back the character of Kevin at this time."
SON will keep you posted.
In other news…

Due to the July 7th pre-emption of "One Life to Live," scenes involving Todd, Téa, and salsa musician Frankie Negrón are now scheduled to air on Wednesday, August 5th, instead of the August 4th date SON previously reported.
A recent online rumor suggests that "OLTL" is looking to cast a Latino actress of around 10 years of age, for a role that could be either Markko Rivera's younger sister or Todd and Téa's as yet unmentioned love child. However, this should taken with a grain of salt, as there is currently NO evidence whatsoever to support the claim at this time.
As first reported by SON in late May, "OLTL" has issued a casting call for the minor role of 'Serge' who, from the tone of the audition script, appeared to be involved in a drug related storyline. While unable to confirm the identity of the actor cast in the role, we can tell you that the character will debut on Thursday, August 6th, as the employer of the drug dealing teen Asher, when the pair pay Cole a visit. Also on that date, the character of Mannetti also first airs, as a cop assisting John and Cole in their undercover operation to lower the boom on Llanview's drug ring.
For those wondering, yes that was "OLTL's" own Kassie DePaiva singing "If You Knew My Heart" during the Blair/John montage during the soap's July 20th episode. According to DePaiva's Twitter page, that song, along with "Untangled" (which she performed on July 1st), will be available "within the month" on iTunes.
The mystery of "Real Housewives of New Jersey" star Dina Manzo's recent visit to the "OLTL" set appears to have been solved. The Suds Report states that Manzo "will host a luau-themed party to honor the premiere of 'My Big Gay Italian Wedding.' Playwright Anthony Wilkinson, who works on the 'One Life' crew, wrote the play and stars alongside Scott Evans (Oliver Fish). The play is scheduled to premiere on Saturday, Sept. 12 at 8 p.m. et at the St. George Theatre in Staten Island, New York. A portion of the proceeds will be donated to the Lustgarten Foundation for pancreatic research."
The Suds Report also claims that Michael Lowry (who will soon join the soap in the recasted role of Ross Rayburn) will be "sticking around for awhile," per a set side source.
Lastly, Bo, Nora, and Clint, think they have found a way to knock Téa down a peg and deflate Matthew's hopes of winning his lawsuit on Friday, August 7th when they hire a new hotshot lawyer named Elijah Kent (Matt Walton), who looks to be just as much of a legal ace as Téa herself. And David Vickers (Tuc Watkins) surprises ex-wife Dorian on Monday, July 10th and soon pays a visit to best friend Viki, who wants no part of his latest scheme.
"One Life to Live" airs Weekdays on ABC. Weeknights on SOAPnet. Check local listings.
---
Discussion: In or Out? Is Llanview in Daniel Cosgrove's Future?
---