Sunday, July 26, 2009 11:10 PM ET |
By Venus Stone
---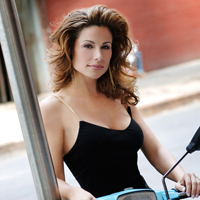 (SoapOperaNetwork.com) –Making his move…
THIS WEEK ON: AS THE WORLD TURNS
Henry's life is turned upside down when his mother comes to Oakdale on Monday, July 27.Margo and Riley's closeness makes Tom suspicious. On Thursday, July 30, Holden and Lily aren't pleased to learn who Luke wants to work for.
The Inside Story: Falling for Trouble

In search for Paul after his generous gesture to help Dusty, Meg heads over to Fairwinds only to find Paul and Emily undressed. Flustered, Meg gets ready to bolt but Paul, seeing her embarrassment kindly asks her to tell him what she came to say. Meg says that she's thankful for his helping Dusty. She also points out that he's the man she fell in love with. Paul tells her that while he is thankful for her kind words, he's not opting to have the surgery to regain his memories. An upset Meg can't understand why he would ever want to forget about their daughter. After Meg has left, Paul and Emily pick up where they left off; remaining intimate throughout the entire day. Things however turn awkward when Paul gives Emily money. Emily thinks he's paying her for her 'services' but Paul reassures her that the money is for her to get back on her feet while finding a new job. In the meantime, an upset Meg leans on Damian, expressing how Paul isn't interested in her. Pulling her into his arms, Damian tells Meg that Paul is a fool and takes her to bed to make love.
A Closer Look: Under Watchful Eye

Casey and Alison get back into the groove of being together by taking in a concert on the roof. Things soon progress for them as they share a tender kiss; which unfortunately is interrupted by Margo calling for him to come home. When Casey arrives, Margo tells him that Tom wants Riley to work in Milwaukee and suggests Casey talk him out of it. Casey finds Tom and asks why he wants Riley gone. Tom tells Casey he believes that Riley and Margo are having an affair with one another. Not wanting to give away the truth, Casey tells Tom not to send Riley away because it would only show Margo that he doesn't trust her. Later that evening, Margo and Tom share quality time together while Casey talks to Riley before returning to his date with Alison.
What To Watch
Lily can't shake her feeling regarding Damian
Sage takes off after finding a letter from Carly
As the World Turns News and Headlines
Lynn Herring will join the show as 'Henry Coleman's' mom, Audrey. Herring's first airdate is Friday, July 27
Michael Woods appears as "Jay Stanhope", Audrey's boyfriend Monday, August 3.
Van Hansis ("Luke Snyder") and Jake Silbermann ("Noah Mayer") will attend their first European fan event in France beginning October 17 at Auditorium Jean-de-La-Fontaine 25, Avenue du General Sarrail. For more information please visit MGC Events for more detailed information.
Austin Peck and Julie Pinson will join other daytime stars as they set sail on Soap Cruise, The Third Voyage on Thursday, January 28 through Monday, February 1, 2010. Please visit Soap Cruise or call 1-888-381-4654 for more detailed information.
SON Top 10: Who was the best of the best on "ATWT" during the week of July 20, 2009? You decide! The SON Top 10 is back! Voting begins Friday's at 4:00 PM, EST.
SON ALERTS: WEEK OF AUGUST 3, 2009
Liberty wants Parker's full attention
Paul sets forward in being a new man
"As the World Turns" airs Weekdays on CBS. Check local listings.
---
---
You may not reproduce content without written permission from author.

© 2009 Soap Opera Network. All rights reserved.
Discussion: ATWT PreVUE: Week of July 27 Edition
---