Monday, July 20, 2009 12:26 AM ET |
By Venus Stone
---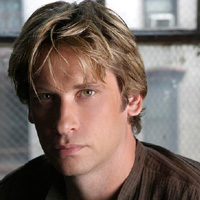 (SoapOperaNetwork.com) –A new man….
THIS WEEK ON: AS THE WORLD TURNS
Brad learns that Katie knew about Henry, Monday, July 20. Hunter refuses to grow closer to Emily, as he continues to grieve for his mother Wednesday, July 22. On Friday, July 24 Lucinda gets under Emily's skin in a bad way.
The Inside Story: A Clean Slate

Wanting to get in good with Meg, Damian sets a plan in motion to help Paul by locating a sugeoon from New York to work with Paul. Back at home, Barbara is doing her best to get Paul to remember who he is by showing photos of his family. Unfortunately for both of them, he can't remember anything or even feel any connection. When Meg arrives, Barbara prays that she can get through to Paul, but he doesn't even respond to her. As the two are talking, he begins to ask Meg about their relationship together. She points out to him that they haven't had the best relationship due to his constant schemes. Meg becomes upset and confused when Paul tells her that she and Eliza are much better off with him out of their lives. Meanwhile Dusty's trial approaches and he wants to plead guilty. Bonnie, who has been fired by him refuses to give up. She soon heads to meet Meg to get her to speak on Dusty's behalf but she is unsurre that will help him. Emily, however, who has found herself running into Paul and is stunned when he doesn't remember who she is. As they are talking, she tells him what happened to get him to the loss of his memory, even explaining how Dusty is set to be tried for the bomb that landed him in the hospital. As the trial is underway, Paul winds up showing up, telling the judge that he was the cause of everything; the judge then lets Dusty know that he'll make his decision on sentence in a couple of days. After the trial, Meg finds herself intrigued by Paul's actions but Damian, wanting Meg for himself isn't so sure he's on the up and up.
A Closer Look: A New Path in Life

Luke watches on as Noah and Mason are working together but leaves when he remembers that he has to meet his partner. Alone, Noah admits to Luke that he's very stressed out about his project and Luke thinks the two of them just need to get out for a bit. Heading to Metro, the two see Mason and his boyfriend, George arguing with one another. When George leaves in a huff, Mason soon confides in them and tells how the two of them met. After hearing how their troubles began, Luke and Noah both vow never to let their relationship get to that point. Meanwhile, Lucinda pulls some strings and talks to Dean Severn, inviting him over to discuss re-admitting Luke back into college. When Luke finds out he heads over to discuss it with Damian, explaining he'd rather work for him than go back to college. He soon finds himself telling Holden and Lily, who are not pleased with the news but support him anyway.
What To Watch
Sage finds someone to bond with in her time of need
Casey and Alison find their ways back to one another
As the World Turns News and Headlines
Matt Edwards appears as "Ed Lazarus" who has business to do with Craig and Rosanna on Thursday, July, 23.
Vanessa Ray appears as "Teri Cicocone" Janet's little sister, who happens to find a bond with Sage on Thursday, July 23
Lynn Herring will join the show as 'Henry Coleman's' mom, Audrey. Herring's first airdate is Friday, July 24
John Hillner appears as "Dean Severn", who is summoned by Lucinda to help Luke, Thursday, July 23.
Van Hansis ("Luke Snyder") and Jake Silbermann ("Noah Mayer") will attend their first European fan event in France beginning October 17 at Auditorium Jean-de-La-Fontaine 25, Avenue du General Sarrail. For more information please visit MGC Events for more detailed information.
Austin Peck and Julie Pinson will join other daytime stars as they set sail on Soap Cruise, The Third Voyage on Thursday, January 28 throughMonday, February 1, 2010. Please visit Soap Cruise or call 1-888-381-4654 for more detailed information.
SON Top 10: Who was the best of the best on "ATWT" during the week of July 13, 2009? You decide! The SON Top 10 is back! Voting begins Friday's at 4:00 PM, EST.
SON ALERTS: WEEK OF JULY 27, 2009
Sage runs away to get to Carly
Damian makes his move on Meg
Tom thinks Margo is having an affair
"As the World Turns" airs Weekdays on CBS. Check local listings.
---
---
You may not reproduce content without written permission from author.

© 2009 Soap Opera Network. All rights reserved.
Discussion: ATWT PreVUE: Week of July 20 Edition
---