Monday, July 13, 2009 8:41 AM ET |
By Venus Stone
---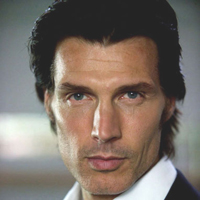 (SoapOperaNetwork.com) –Costly error…
THIS WEEK ON: AS THE WORLD TURNS
Alison thinks Hunter should meet his new family on Monday, July 13. Noah gets some help from the new professor, Wednesday, July 15. Henry's actions is the last straw for Vienna.
The Inside Story: Revenge Gone Bad

Meg learns from Lily that Paul was the one that set up both Damian and Dusty. Furious at his actions Meg blasts Paul in front of Barbara. Dusty and Damian on the other hand are already huddled together to pay Paul back. Damian passes over information to Dusty on contacting a guy who deals with demolitions. Damian believes that if they frame Paul for placing a bomb in one of his warehouses, where it will cause Dusty's 'death'. Dusty, meanwhile arranges for Paul to come to the warehouse, while Damian is to appear with the authorities before the bomb's detonation. Damian however backs out and confesses all to Meg and they both soon frantically try to get to the warehouse to stop Dusty. Unfortunately they are unable to disarm the bomb and Paul takes off with it to try to get rid of it but it explodes. When the dust settles, Damian quickly deflects the blame off of himself by telling Margo he knew nothing about what was going on. Dusty is furious by Damian's deceit and it only mounts when the demolition man that Damian hired tells Margo he never heard of him before. Back at the hospital Bob announces while working on Paul he discovered some form of chip in his brain and that the chip could have been used to control him. Barbara instantly thinks of James as being the possible one to do something like that. The minute Paul wakes up, Barbara is there to see if he's alright; unfortunately he doesn't recognize her.
A Closer Look: The End of the Line
Carly, who continues to deny that she has a drinking problem, is confronted by Rosanna, Craig and Jack. They insist she gets professional help for her addiction; however Carly says she doesn't need to see a professional, she just needs to go away for a bit. Craig agrees and takes her to a cabin. While Craig is gone, Carly beigins to prepare dinner but finds herself drinking a bottle of wine. Craig returns to the cabin to find that Carly is not there. He soon finds her passed out and decides to take her back to Milltown where her family tells her she needs to get some help; to which she finally relents to.
What To Watch
Hunter gets too protective of Alison
Casey and Riley get into another argument
Katie calls Henry out on his actions
As the World Turns News and Headlines
Congratulations to Maura West ('Carly') and husband Scott DeFreitas newest edition to the family. Birdie West DeFreitas arrived, Tuesday, June 16 at 5:33 PM, weighing 7 lbs 13 oz. Maura is currently on maternity leave
Vanessa Ray will come to the show as 'Teri Ciccone', Janet's sister. She will arrive on the show at the end of July
Lynn Herring will join the show as 'Henry Coleman's' mom, Audrey. Herring's first airdate is Friday, July 24
Michael Woods will appear on the show as 'Jay', the boyfriend of 'Audrey'. His first airdate on teh show will be Friday, July 31
Austin Peck and Julie Pinson will join other daytime stars as they set sail on Soap Cruise, The Third Voyage on Thursday, January 28 throughMonday, February 1, 2010. Please visit Soap Cruise or call 1-888-381-4654 for more detailed information.
SON Top 10: Who was the best of the best on "ATWT" during the week of July 6, 2009? You decide! The SON Top 10 is back! Voting begins Friday's at 4:00 PM, EST.
SON ALERTS: WEEK OF JULY 20, 2009
Someone from Henry's past comes to Oakdale
Meg gets an eyeful of Paul
"As the World Turns" airs Weekdays on CBS. Check local listings.
---
---
You may not reproduce content without written permission from author.

© 2009 Soap Opera Network. All rights reserved.
Discussion: ATWT PreVUE: Week of July 13 Edition
---