Friday, June 19, 2009 8:00 AM ET |
By Scotty Gore
---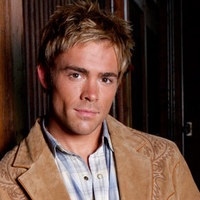 (SoapOperaNetwork.com) — What becomes of the brokenhearted?
THIS WEEK ON: ONE LIFE TO LIVE
Viki is sympathetic and understanding of what Marty is going through. Realizing she has no one else to turn to, Marty seeks out John's help on Friday, June 26. Her request is simple — help her and Cole disappear. After talking with Marty, John agrees to return to the LPD as Chief of Detectives, but with one condition. Elsewhere in Llanview, Clint informs Bo and Nora that he believes he has found someone that can help Matthew to walk again. Across town, Shaun discusses his brother, the surgeon, with Rachel. Destiny is fired from her job at the country club after making sure Justin and Becca get what's coming to them on Tuesday, June 23. Dr. Greg Evans arrives in town, promising to work miracles with Matthew, much to little sister Destiny's delight. Later, Nora believes Bo to be jealous that Clint was the one who found someone to help Matthew instead of him. Dorian makes progress in softening Aurelia's feelings toward her son's girlfriend. Meanwhile, Moe, Charlie, and Shaun place a bug in Ernesto's ear about Dorian's true nature on Tuesday, June 23. Afterward, as the two concerned parents talk, Aurelia feels that Markko should be free to see Langston, however, Ernestso refuses to budge. Seeing that she still has work to do, Dorian vows to change Ernesto's mind and get in Langston's good graces again. Fish denies Cristian's allegations that he has the hots for Layla, and later suggests that she apply for a receptionist job at the police station.
The Inside Story: Love and Marriage?
When Todd walks in just as Cole is proposing to Starr, they are both amazed by his reaction. Even after learning that Cole faces jail time, he still agrees to sign the consent form on Monday, June 22. However, the wheels in Todd's head are already starting to turn. At the same time, Blair tries to convince Téa that the last thing she wants is to get back with Todd. Despite her lingering anger toward Todd for jeopardizing her career, Téa is nonetheless hurt when Todd agrees to relocate to La Boulaie with Blair and the boys. By Thursday, June 25, Téa models Todd's behavior. Meanwhile, Todd makes Blair look bad when she is unsure about signing a consent form for her daughter to get married. Todd's smugness is short-lived however, as Blair surprises him by signing the form on Friday, June 26. To make matters worse, Téa exposes Todd's real agenda, forcing Starr to challenge her father to prove his love for her.
A Closer Look: The Heart Wants What the Heart Wants
At Schuyler's urging, Gigi puts the screws to Roxy. Although she doesn't tell Gigi what she wants to know, Roxy continues to have a guilty conscience. The Manager of the Llanview Country Club kicks Rex and Stacy out just as they were about to get intimate. After being arrested, Bo steps in to help them. Later, Rex confides to Bo that, while his flesh may be weak, his heart still belongs to Gigi. On Tuesday, June 23, Natalie is livid when Gigi asks her and Jared to drop the charges against Kyle. Unable to reveal the truth, Gigi can only claim that it would benefit Shane. Natalie remains unfazed, even as Gigi points out that they were once friends. Schuyler, meanwhile, confronts a guilty Kyle, and later finds a nearly hysterical Gigi, convincing her to unburden herself to Natalie and Jared. Rex urges Shane not to be so disrespectful toward his mother, and later shares a heated exchange with Brody while at the gym on Wednesday, June 24. While taking Bree to her ballet class, Jessica encounters Stacy, who is now teaching the group. Natalie and Jared are sympathetic to Gigi and her plight. They agree to drop the charges against Kyle, but only if Gigi makes a full confession to Rex. Back at the ballet studio, Jessica taunts Stacy by revealing she knows what the bitch did to Gigi. Overwhelmed with emotion from Jessica's verbal assault and Rex pulling away from her, Stacy suffers a nervous breakdown in front the class on Wednesday, June 24. Later, however, her ego is stroked when Rex puts the moves on her. After making love with Stacy on Thursday, June 25, Rex begins to have vague recollections of several comments she made the night she drugged his drink. Gigi arrives at Ultraviolet with the intention of confiding in Rex. Meanwhile, Natalie and Jared let Roxy in on the fact they know Kyle is blackmailing her, and demand to know the name of the real bone marrow donor. On Friday, June 26, Gigi convinces Rex as to the type of person Stacy really is. At the same time, Schuyler forces Stacy to accept reality. And Natalie and Jared confront Kyle.
One Life to Live News and Headlines
OLTL ALERTS: WEEK OF JUNE 29, 2009
Dorian continues her quest to repair her relationship with Langston. (National Enquirer)
"One Life to Live" airs Weekdays on ABC. Weeknights on SOAPnet. Check local listings.
---
Discussion:
OLTL PreVUE: Week of June 22 Edition
---