Monday, June 29, 2009 9:09 AM ET |
By Venus Stone
---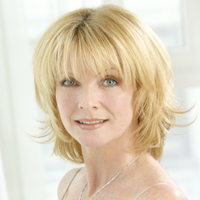 (SoapOperaNetwork.com) –A son's return…
THIS WEEK ON: AS THE WORLD TURNS
Col. Mayer can't get revenge out of his minid on Monday, June 29 when he sets his sights on Noah. Things get heated between Casey and Hunter over Alison. On Thursday, July 2 Rosanna begins to question Carly's behavior.
The Inside Story: Prodigal Son

As Margo lay lying on the ground from being shot by Col. Mayer, Riley remains by her side whispering for her to hold on; continuing to refer her as 'mom'. When Margo slips into conciousness Riley quickly calls 911. When Casey arrives he assumes that Riley is responsible for his mother's being shot and charges at him. Margo quickly stops him by telling him that Riley is his brother, Adam. Casey doesnt' believe it and exits shortly after the police arrive to get Margo and Riley's statements and finds Tom to tell him what has happened. Once at the hospital, Casey demands that Margo tell Tom what she told him but she keeps mum, only saying that Riley saved her life. Not able to let it go, Casey corners Riley and demands the truth. Riley admits that after the bombing in Afghanistan, he had surgery to fix his disfigured face and had hopes of starting his life over with a clean slate. Returning back to the hospital to see his mother, Casey is confused that Margo didn't come forward with the truth to Tom. Margo admits that she doesn't want to tell Tom yet and for Casey to keep quiet as well.Casey initially refuses and Riley tell him that it wasn't his plans to keep his identity a secret at first; pointing out that the military misidentified him Margo's further pleadings for Casey to keep quiet gets to him and he reluctantly agrees. In the meantime, Alison is doing her best to comfort Hunter after his learning that his mother, Aurora, has died. Casey soon shows up and tries to get Alison alone to talk but Alison refuses to leave Hunter's side. Angry, Casey takes it out on Hunter and Alison steps in to tell Casey that she wants him out of Al's When Alison heads to the hospital she learns that Margo had been shot and feels bad for blowing Casey off. She tries her best to get in contact with Casey but when she can't she goes back to Al's and finds herself locking lips with Hunter.
A Closer Look: The Instigator
When Dusty tries to apologize to Meg for his behavior, the two of them wind up sparking another argument that causes another break-up. Hearing of what happened between the two, Paul decides to use it to his advantage by heading over to the docks to destroy one of Damian's ships. Damian learns about what has happened and off of information about Dusty from the harbor master, charges after Dusty. The two men begin to argue and fight in Meg's presence and Paul 'saves' her from it all by taking her and Eliza back home. Meg complains that Dusty and Damian are both killing her with their competitveness and Paul tells her that it is indeed not something she should be getting involved in. Alone with Bonnie, Dusty tells her that he wished he hadn't stepped down from his battle with Damian but says that he will deal with the man once and for all. Later that day, Lily and Dusty meet up at Worldwide to talk to a potential client when they learn that the computer that holds their presentation has disappeared. Dusty quickly points Damian as the thief and barges his way into his hotel room only to discover it Damian is furious that Dusty would assume that he stole the computer and the two get into another nasty argument; Meg and Lily both present. Meg snaps that she's sick of their behavior and storms off and finds herself meeting Paul, who is more than willing to be a 'shoulder to cry on'.
What To Watch
Sage wants no part of Carly's wedding
Emily learns the truth about Larry
Damian comes to Luke's aid
As the World Turns News and Headlines
Vanessa Ray will come to the show as 'Teri Ciccone', Janet's sister. She will arrive on the show at the end of July
Lynn Herring will join the show as 'Henry Coleman's' mom, Audrey. Herring's first airdate is Friday, July 24
Michael Woods will appear on the show as 'Jay', the boyfriend of 'Audrey'. His first airdate on teh show will be Friday, July 31
Cady McClain will be showcasing her art work, which will also include paintings and collages, at Marty's Cafe in Washington Depot, CT for the entire month of June
Austin Peck and Julie Pinson will join other daytime stars as they set sail on Soap Cruise, The Third Voyage on Thursday, January 28 through Monday, February 1, 2010. Please visit Soap Cruise
for more detailed information.
SON ALERTS: WEEK OF JULY 6, 2009
Hunter gives Casey a serious warning
Henry does his best to keep his alter-ego under wraps
"As the World Turns" airs Weekdays on CBS. Check local listings.
---
---
You may not reproduce content without written permission from author.

© 2009 Soap Opera Network. All rights reserved.
Discussion: ATWT PreVUE: Week of June 29 Edition
---