Monday, June 22, 2009 12:09 AM ET |
By Venus Stone
---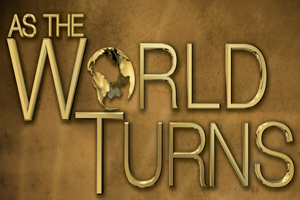 (SoapOperaNetwork.com) –Secrets and schemes….
THIS WEEK ON: AS THE WORLD TURNS
Craig pops the big question to Carly on Monday, June 22 That same day, Meg shares her feelings with Dusty. Casey can't seem to leave Riley's past alone. On Wednesday, June 24 Hunter plants a kiss on Alison. Sage tells the truth about Carly to Jack, on Thursday, June 25.
The Inside Story:Putting on the Charm

An upset Emily is told that due to a lot of scarring, she will be unable to have children through the reversal of her tied tubes. Larry, in the meantime, upon hearing Emily's news from her, lets her know he has no idea where the missing eggs are but tells her to maintain hope in trying for a baby. Susan flips when she sees Emily and Larry bonding with one another and tells Emily she thinks she needs to steer clear of him. Later that same day, Larry shows up to tell Emily he managed to find her missing eggs at Memorial and offers to take her to the opera as a way to celebrate. After the opera the two head to his hotel and share drinks and more close time together; After becoming tired and a little drunk, Larry offers Emily to stay to sleep it off. back at the hospital, Susan is very suspicious as to how Larry was able to locate Emily's eggs and discusses with the attending nurse to prevent Larry from coming to the hospital requesting admittance into restricted areas.
A Closer Look: Dirty Little Secret
Still working on his film project, Noah realizes he needs to go to the military base to get more information for his film. Luke accompanies him and they meet up with Riley asking for his help, which he agrees to. When he heads to the base to meet Lt. Hasbro, he is surprised to find Col. Mayer there instead. Col. Mayer threatens to reveal Riley's true identity if he doesn't follow his orders and get Noah to the base so he can see him. When Riley returns to meet Luke and Noah, he informs them that access can be granted but only to Noah. Noah instantly balks at this but Luke assures him that he should go and accomplish what he needs. In the meantime, Alison runs into a depressed Margo and informs her that she's been keeping Riley's watch hidden per Casey's request. Furious, Margo confront her son about it and Casey soon finds himself confronting Alison for betraying him. Alison, however, tells Casey that she can't stand by or be with someone that schemes and lies. Upset that Alison broke up with him, Casey heads to Noah and Lukes to fuss about Riley but they tune him out by telling him that they are grateful for all that he's been doing to get Noah's film off the ground. Peeved that everyone is liking Riley, Casey calls the Veterans's Administration to get the goods on Riley once and for all.
What To Watch
Damian and Dusty continue to power play each other over Meg
Holden is not pleased with Lily and Luke's sudden closeness to Damian
Craig and Jack go yet another round over Carly
As the World Turns News and Headlines
Daniel Hugh Kelly returns as 'Col. Mayer' Tuesday, June 23
David Hall appears ad 'Floyd', who instantly takes a shine to 'Geneva' on Thursday, June 25
Vanessa Ray will come to the show as 'Teri Ciccone', Janet's sister. She will arrive on the show at the end of July
Lynn Herring will join the show as 'Henry Coleman's' mom, Audrey. Herring's first airdate is Friday, July 24
Michael Woods will appear on the show as 'Jay', the boyfriend of 'Audrey'. His first airdate on teh show will be Friday, July 31
Cady McClain will be showcasing her art work, which will also include paintings and collages, at Marty's Cafe in Washington Depot, CT for the entire month of June
Austin Peck and Julie Pinson will join other daytime stars as they set sail on Soap Cruise, The Third Voyage on Thursday, January 28 throughMonday, February 1, 2010. Please visit Soap Cruise
or call 1-888-381-4654 for more detailed information.
SON Top 10: Who was the best of the best on "ATWT" during the week of June 15 – 19, 2009? You decide! The SON Top 10 is back! Voting begins Friday's at 4:00 PM, EST.
SON ALERTS: WEEK OF JUNE 29, 2009
Carly hits the bottle hard on her wedding day
Tom confronts Riley about his identity
Casey gets the cold shoulder from Alison
"As the World Turns" airs Weekdays on CBS. Check local listings.
---
---
You may not reproduce content without written permission from author.

© 2009 Soap Opera Network. All rights reserved.
Discussion: ATWT PreVUE: Week of June 22 Edition
---