Monday, June 15, 2009 1:25 AM ET |
By Venus Stone
---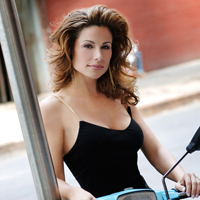 (SoapOperaNetwork.com) — Moving foward…
THIS WEEK ON: AS THE WORLD TURNS
Craig offers up a deal to Rosanna to keep her from behind bars. On Tuesday, June 16 Casey and Margo don't see eye-to-eye about Riley. Things heat up between Carly and Craig. Jack learns the truth about Carly's accident on Friday, June 19.
The Inside Story:Starting with a Clean Slate

Wanting to get Meg away for a bit for some relaxation, Damian takes her on a yacht. While aboard the two share a nice meal with one another as they head toward a deserted island. When Meg and Damian head out on the dinghy to get to the island, the find themselves drifting off. Damian instantly calls the coast guard for help After receiving help they board back on to the yacht and head back home. Meg gushes about making it a wonderful day for her as Lily spies on them. In the meantime, Bonnie does her best to help Dusty forget about Meg. As the two are jabbing at one another at Yo's Dusty plants a spontaneous kiss on her. When Bonnie questions his actions, Dusty admits he only kissed her to make himself feel better. Bonnie soon returns the favor and plants a kiss on him and heads out, both unaware that Meg has seen it. Later that night, Meg admits to Damian that she's glad that she saw Dusty and Bonni'es kiss in order to move past him and get on with her life.
A Closer Look: Henry's Got the Look
Brad and Vienna are at WOAK hosting a live show about tango lessons, when they begin to demonstrate the dance. As the two are dancing, Brad dips her and she inadvertantly spills out of her dress, exposing her breasts on live television. Thinking quickly Brad quickly uses his hands to cover her up as Katie and Henry watch the incident from their respective homes. Henry seething with envy, Henry calls WOAK and disguising his voice as an upset viewer who demands that Vienna be fired for indecent exposure. Kim, who is unaware of who it is, asks if "Miss Swift" his alter ego would be willing to come on the show to share 'her' concerns with Vienna. At first Henry refuses to go but changes him mind. Dressed up as 'Miss Swift" she starts berating Vienna for her conduct on air. After seeing that the viewers are loving the sparring, Kim decides that it would be great to have 'Miss Swift" come back on the show as a regular. Henry, however, wants no part of it; or does he?
What To Watch
A witness comes forward about the hit and run
Margo keeps bonding with Riley to Casey's displeasure
Emily wants to know what happened with the frozen eggs
As the World Turns News and Headlines
Word is that Lynn Herring, who played Lucy Coe on "General Hospital' will be joining the show sometime in July
Karen Ziemba, a Tony Award winning actress will appear as 'Aurora' on Tuesday, June 16
Trent Dawson will be doing double duty when he takes on the role as alter ego 'Miss Geneva Swift' Wednesday, June 17
Corey Eid will be playing 'Gabe' who will be spending his time with Liberty Friday, June 19
Cady McClain will be showcasing her art work, which will also include paintings and collages, at Marty's Cafe in Washington Depot, CT for the entire month of June
Austin Peck and Julie Pinson will join other daytime stars as they set sail on Soap Cruise, The Third Voyage on Thursday, January 28 throughMonday, February 1, 2010. Please visit Soap Cruise
or call 1-888-381-4654 for more detailed information.
SON Top 10: Who was the best of the best on "ATWT" during the week of June 8 – 12, 2009? You decide! The SON Top 10 is back! Voting begins Friday's at 4:00 PM, EST.
SON ALERTS: WEEK OF JUNE 22, 2009
Riley comes to Margo's aid
Sage spills the beans to Jack about Craig and Carly
Damian wants Lily's help in wooing Meg
"As the World Turns" airs Weekdays on CBS. Check local listings.
---
---
You may not reproduce content without written permission from author.

© 2009 Soap Opera Network. All rights reserved.
Discussion: ATWT PreVUE: Week of June 15 Edition
---