Monday, May 25, 2009 1:44 AM ET |
By Venus Stone
---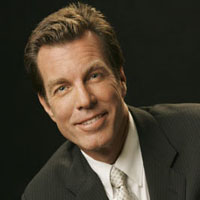 (SoapOperaNetwork.com) — Brotherly betrayal…
THIS WEEK ON: THE YOUNG AND THE RESTLESS
Noah makes up his own assumptions regarding Sharon's news, Monday, May 25. Devon is far from over with giving Tyra a piece of his mind. On Tuesday, May 26, Adam gets the upper hand on Victor and Ashley and on Thursday, May 28, Adam sneaks out of the Newman house again.
The Inside Story: Blindsided by the Truth
At Cassie's grave, Sharon stuns Nick with the news that she is pregnant. He immediately assumes that the baby is his based off of Cassie's spirit telling him that the two of them would have another child. Not wanting to listen to what Nick has just admitted, Sharon takes off leaving him at the gravesite alone; both unaware that Phyllis, who has arrived at the cemetery, has heard everything. Upset at the revelation, Phyllis heads back over to Restless Style and contacts Jack, telling him to meet her there. When he arrives, she blasts him for not informing her about the news regarding Sharon being pregnant. She further tells him that because of this news, their relationships with the people they love could be over. As Jack is trying to reassure her, Phyllis blurts out that for all they know the baby could be Billy's and not Jack's or Nick's. Jack is stunned by what Phyllis has said and he soon learns that Billy and Sharon were also fooling around one another. Meanwhile Jack, who is back home keeps quiet about what he knows with Sharon but soon confronts Billy for his actions, lashing out that he was selfish for his actions. Later on that day, Nick meets up with Sharon again and tells her that he doesn't want to keep the truth from his wife, yet doesn't want Jack as a father figure if the baby is indeed his. Sharon tells Nick that he can't throw away his marriage to Phyllis if he's still in love with her. While their significant others are off talking to one another, Jack and Phyllis decide to vent to one another about the things that have been kept from them, unaware that Nick and Sharon are planning on telling them both the truth about everything.
A Closer Look: Fed Up

Billy learns the truth about Mac and Raul's relationship with one another while they were in Dafur and isn't pleased by it. Covering his annoyance, he swallows the bitterness when Raul comes to him with news of wanting to propose to Mac. Billy lies and tells Raul that he's happy for him and says he supports him. Chloe, who is very well aware that Billy is not pleased with the news of Raul and Mac, tries to be there for Billy but he brushes her off. The two soon begin to argue about Mac and he leaves in a huff. When he heads back home shortly after their arguement, he finds that Chloe and Cordelia aren't there but back at the Chancellor estate. He heads over and begs Chloe to come home. Meanwhile, Jill, seeing how hurt Chloe is by Billy's actions regarding Mac, pulls her son aside and tells him he needs to make a decision about his marriage.
What To Watch
Sharon and Nick get into another lip-lock
Det. Gil shows Kevin just how much people wish he were in jail
Kay learns who wants the baby swap put on film
The Young and the Restless News and Headlines
Jerry Douglas returns as the 'Ghost of John Abbott' Wednesday, May 27
David Largo continues in the role of 'Raul Guittierez', Tuesday, May 26 and Wednesday, May 27
As mentioned in a previous report on Soap Opera Network, Raya Meddine, who played 'Sabrina' will return to mess with 'Ashley's mind, Monday, June 1
Corbin Bernsen reprises his role as 'Father Todd Williams', brother to 'Paul Williams' on Tuesday, June 2
SON Top 10: Who was the best of the best on "Y&R" during the week of May 18 -22, 2009? You decide! The SON Top 10 is back! Voting begins Friday's at 4:00 PM, EST.
SON ALERTS: WEEK OF JUNE 1, 2009
Someone pops the question to Sharon, but who?
Chloe gets a confession from Billy
Ashley continus to spiral out of control will she 'spots' Sabrina
"The Young and the Restless" airs Weekdays on CBS. Weeknights on SOAPnet. Check local listings .
---
You may not reproduce content without written permission from author.

© 2009 Soap Opera Network. All rights reserved.
Discussion: Y&R PreVUE: Week of May 25 Edition
---