Monday, May 18, 2009 12:38 AM ET |
By Venus Stone
---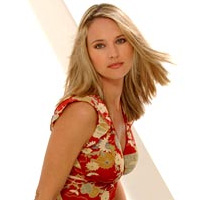 (SoapOperaNetwork.com) — Will she reveal the truth….
THIS WEEK ON: THE YOUNG AND THE RESTLESS
Jill learns of the movie deal of Katherine's life, Monday, May 18. That same day, Devon begins to wonder what Aunt Virginia could be keeping from him. Raul comes back to Genoa City to reconnect with old friends, Friday, May 22.
The Inside Story: Unable to Let Go
In an effort to put her life back in order, Sharon continues to plan her life and that of her baby's with Jack and seek therapy When she meets with the therapist she informs her about her being with Nick, Billy and Jack, along with stealing items, the therapist begins to lay out the reasons why she's doing the things she's doing, Sharon gets upsets and ends the session. She soon finds herself in the bar face-to-face with Nick, who sees that she's upset. When he begins to embrace her she tells him that he needs to leave her alone and she leaves, headed back to the Abbott mansion. Once there she starts going through a box of things and finds a picture that Cassie drew as a little girl of her family. Emotions overcome Sharon and she soon tells Jack that maybe it would be best for them to leave Genoa City but Jack talks her out of the idea. Later that day Sharon bumps into Billy and blurts out that he may not be the only person who could be the father. She points out that despite it all Jack realizes and understands that he may not be the baby's father. When Jack returns she tells him that she just can't keep Nick out of her life; while back at the office, Phyllis and Nick are discussing his ex. After agreeing to move on and start their lives together, the two make love. Meanwhile, Sharon tells Jack that she is going to let Nick know that she's pregnant and that he could be the father. Jack tells her that if she does that she'd be ruining Nick's marriage. Taking his advice Sharon bypasses a telephone call from Nick and heads to Cassie's grave only to find Nick there as well.
A Closer Look: In Deep

Daniel decides to continue to help the Justice Department in shutting down the black market of stolen paintings. Jana, upon seeing one of Daniel's paintings becomes suspicious of what he could be up to and begins trying to discover what he could be hiding.
What To Watch
Paul begins to investigate a litlte bit more into Mary Jane
Jill tries to keep Billy quiet about her money woes
Billy learns a bit more about Mac
The Young and the Restless News and Headlines
Della Reese comes to the show as Aunt Virginia on Monday, May 18th with some shocking information
David Largo returns to the show as Raul Guittierez on Friday, May 22
Jerry Douglas reprises his role as the 'Ghost of John Abbott' on Wednesday, May 27
SON Top 10: Who was the best of the best on "Y&R" during the week of May 11 -15, 2009? You decide! The SON Top 10 is back! Voting begins Friday's at 4:00 PM, EST.
SON ALERTS: WEEK OF MAY 25, 2009
Jack learns the truth about Sharon and Billy
Chloe makes a decision that has a big impact on her family
Ashley is hospital bound once again
"The Young and the Restless" airs Weekdays on CBS. Weeknights on SOAPnet. Check local listings .
---
You may not reproduce content without written permission from author.

© 2009 Soap Opera Network. All rights reserved.
Discussion: Y&R PreVUE: Week of May 18 Edition
---