Sunday, May 3, 2009 12:31 AM ET |
Scotty Gore
---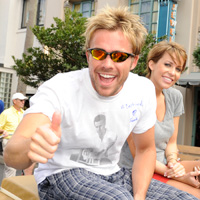 SoapOperaNetwork.com) — John-Paul Lavoisier and Farah Fath, "One Life to Live's" super couple Rex Balsom and Gigi Morasco, play host to this year's Gabriel Project charity fundraiser.
Since 1990, the Gabriel Project has helped provide life-saving heart surgery to children around the world who are in need.  The non-project organization was founded by Mark J. Melamed, a six-grade teacher who persuaded his students to become involved after the class researched the number of children who die everyday in developing countries, and identified the east African nation of Tanzania as one of the five poorest countries; so poor in fact, that no one living there has access to heart surgery.  As a result, the students chose to sponsor a child from Tanzania, eight-year-old Gabriel Inyunye, from which the group takes its name. Unfortunately, the child died of intractable heart failure before necessary funds could be secured to fly him to the United States for needed surgery to repair the damage to his heart. 
This year's fundraiser was originally scheduled for May 2nd, but has been moved to Saturday, May 16th due to a scheduling conflict.  The event begins at 6:00 pm et with a pasta dinner followed by a celebrity auction.  An autograph and photo session with Lavoisier and Fath is also scheduled.  The venue is Veteran's Memorial School, located at 424 South Main Road, in Vineland, New Jersey.  Tickets are $10 per person, and reservations can be made by calling (856)-794-6918.
More than 300 items will be auctioned off, including several several personally autographed pieces from celebrites.  Those items include guitars signed by Rob Thomas of Matchbox 20, Roger Water of Pink Floyd, and Kenny Chesney; photos of Paul Newman, Johnny Cash, and the Jonas Brothers, a collectable "Jetsons" cereal box signed by the voice of Jane Jetson, Ms. Penny Singleton; and the "One Life to Live" trophy from "Family Feud" signed by Robert S. Woods (Bo Buchanan). 
For those unable to attend the fundraiser, but who would still like to bid on any of the items, click here to e-mail the event organizer.  There will be Chinese, Live, Silent auctions all happening at the event.
In addition, the Gabriel Project will again be sponsoring the annual All Star Soap Baseball Game and Bartending Event on Saturday, June 6th.  This event will be held at the Prohibition Bar at 503 Columbus Avenue.  Tickets are $20 per person, and reservations can be made by clicking here. Join your favorite soap stars for a celebrtiy ball game, and then set back as they bartend, mix drinks, and mingle with fans.  A list of those soap stars attending this year's event will be announced at a later date.  
For more information on The Gabriel Project, you can visit their official website by clicking here.
"One Life to Live" airs Weekdays on ABC. Weeknights on SOAPnet. Check local listings.
---
Discussion:
John-Paul Lavoisier and Farah Fath Host Gabriel Project
---