Monday, May 25, 2009 12:22 AM ET |
By Venus Stone
---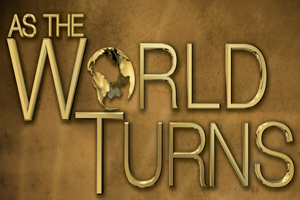 (SoapOperaNetwork.com) — A father's return…
THIS WEEK ON: AS THE WORLD TURNS
Parker stoops low to get what he wants when he blackmails Carly, Wednesday, May 27, while that same day Craig goes to Jack for guidance. On Friday, May 29, Bonnie and Dusty race to find Eliza.
The Inside Story: Reunion Most Unwanted

Wanting to celebrate Alison's graduation and an award she received, Casey plans a dinner with the family, to which Hunter overhears. Unaware of what he's doing, Hunter, upon hearing that Alison's father isn't included in the celebration, decides to track him down and offer up an invite. When Emily discovers what Hunter has done, she's livid but soon doubts that Larry will even show up. Later that evening, Casey, Alison and Emily are talking at the Lakeview Lounge when Hunter shows up offering to help distract Larry if he in fact decides to come to the dinner. Emily wants Hunter to leave but Alison tells him he's more than welcome to stay to celebrate with them all. Meanwhile Larry shows up as the party is getting settled for their dinner and it floors Alison that he's there. Realizing how upset she is, Hunter comes forward and tells her that it was his doing, further upsetting Alison. When Susan comes to the Lakeview and sees Larry she is angered and tells him no matter what he does, she will never accept any apologies. Upset by what he's done, Hunter leaves and soon finds himself face-to-face with Alison and Casey. While Alison is willilng to forgive him, Casey lets it be known that he'll be the one to help Alison because he loves her. Later that night, Hunter heads to Java and ins approached by Larry who wants to know where Alison is. Hunter at first refuses but soon relents and tells him that she is with Casey. Larry later meets up with Susan at the hospital and after some talking both decide to put the past in the past. Meanwhile after admitting how much he loves Alison, Casey and Alison make love for the first time.
A Closer Look: One Step Ahead
Paul calls Barbara in need of funds, instructing her to meet him at the airfield. After his phone call he meets up with Rosanna and asks her to watch Eliza for a bit until he comes back. Meanwhile in Oakdale, Lisa fills Damian and Meg in on Barbara's plans to meet Paul and they follow her. When all three arrive, Paul, who sees them, contacts Barbara and warns her that Damian and Meg are on her tail and that she won't see him any longer. When Barbara approaches Meg and Damian, they realize that Paul tipped her off about them following her and that Paul cut out of sight again. When Paul returns to Rosanna, he asks her if he and Eliza can stay with her. She goes before the Farm Stand Committee to ask if Paul can stay but one of the committee members named Edna isn't sure that he is on the up and up. After discussion, the committee agrees to let Paul stay but only because of Rosanna. When they are alone Rosanna gives Paul a warning to keep out of trouble and not mess up the life she has made for herself. Back in Oakdale, Noah approaches Meg with the idea of creating a video tape requesting Paul to bring her daughter back to her. Damian, alongside Lily, Luke and Noah all help Meg with the video and Damian later sends out the finished tape to his busines email lists while Noah uploads it, in hopes that someone sees it in time.
What To Watch
Carly kicks Craig to the curb
Paul comes up with yet another scheme
Jack's lecturing to Carly sets her off
As the World Turns News and Headlines
Word is that Daniel Hugh Kelley is on his way back to Oakdale as 'Noah's' father, 'Col. Winston Mayer' some time in June.
Allyce Beasley comes to the show playing the role of 'Edna' who has big suspicions about 'Paul', Tueday, May 26
Joe Dawson joins the show playing 'Gus' a man that encounters 'Carly' at the bar on Friday, May 29.
Ellen Dolan, who plays 'Margo Hughes' is appearing in a production of Sophistry, which started April 22 and ends its run June 6 at the Samuel Becket Theater on Theater Row, located at 410 W. 42nd. For ticket information, please contact [email protected]
Word is that Julie Pinson's 'Janet' could be getting a sister arriving in Oakdale. Actresses have been doing screen tests with John Lindstrom (Craig Montgomery)
'As the World Turns' fans have an opportunity to bring out their charitable side in them by joining Kelley Menighan Hensley, Jon Hensley, Michael Park and Martha Byrne at the Inaugural Angels for Hope Gala Friday. May 29. The event begins from 7 PM to 11 PM at the Estate at Florentine Gardens, located at 97 Rivervale Road in River Vale, NJ. Angels of Hope is the first major fundraiser event that is held on behalf of St. Jude Children's Research Hospital in Bergen County. Those in attendence will have the opportunity to enjoy a night of fine dining, cocktails, music and dancing along with a silent auction. Tickets are $200.00 each with limited seating. Please visit Angels for Hope or call (212) 239-3239 to reserve.
SON Top 10: Who was the best of the best on "ATWT" during the week of May 18 – 22, 2009? You decide! The SON Top 10 is back! Voting begins Friday's at 4:00 PM, EST.
SON ALERTS: WEEK OF JUNE 1, 2009
Bonnie and Dusty are near in locating Paul and Rosanna
Katie has some positive news
Bob tells Emily some disturbing news
Meg continues to play with fire
"As the World Turns" airs Weekdays on CBS. Check local listings.
---
---
You may not reproduce content without written permission from author.

© 2009 Soap Opera Network. All rights reserved.
Discussion: ATWT PreVUE: Week of May 25 Edition
---