Monday, May 4, 2009 1:15 AM ET |
By Venus Stone
---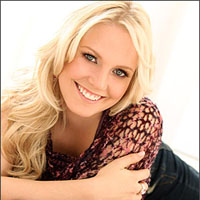 (SoapOperaNetwork.com) — A lie is discovered…
THIS WEEK ON: AS THE WORLD TURNS
Paul suspicious of Meg, puts her on the spot, Monday, May 4 . On Tuesday, May 5, Holden catches Lily in a lie. Lucinda continues to have her suspicions about Damien, Thursday, May 7.
The Inside Story: A Friendship Damaged

Kim approaches Katie and Brad about doing a child birthing class at the hospital and have it taped for a segment on their program. Katie, out of concern for Henry, tells Vienna that it might be best to exclude him from the class since he's become too attached to a baby that isn't even his. The news however gets to Henry regardless and determined not to miss out, rushes to the hospital to take part in the class. When he arrives he expresses his disappointment in being excluded, which upsets Katie. To try to make it up to him, Katie gives Henry to BotBaby to hold. When Henry takes off with the baby, Katie becomes upset and begins to wonder if Henry will do this when the real baby is born. When Vienna heads home she finds Henry holding the doll. He quickly tells her that he won't give up their baby, but Vienna points out they made a promise to Brad and Katie and they are going to keep it. Meanwhile Brad and Katie are stunned when they learn the true results on the genetic testing. Unaware of Brad and Katie's discovery, Henry and Vienna show up at their place to apologize for Henry's behavior. Brad lashes out at the two of them and lets them know that they know the truth about who the real father is of the baby. Vienna and Henry quickly tries to apologize to their angered and hurt friends but Brad and Katie says that they not only don't want their child but they don't want to be anywhere near them.
A Closer Look: Falsely Accused
Craig finds himself in serious trouble when he is arrested as the number one suspect for gun smuggling and the murder of Cesar. When Craig tries to explain to Jack that Parker can offer up an alibi, Jack blows him off. Not giving up, Craig contacts Carly and tells her to bring Parker to the jail to vouch for him. When Parker arrives and tries to tell Jack that he was with Craig getting a check at the time of Cesar's murder. Jack accuses Craig of trying to buy off Parker by silencing him and tells Parker to leave the police station. Once Parker has left, Carly snaps into Jack for his behavior and lets him know that his hatred for Craig is keepign him from doing his job. Jack fires back that if anyone is clouded in their judgement it is her for being so close to Craig to begin with.. Realizing that Carly is on his side, Craig asks her to find proof that Dusty is behind the set up.
What To Watch
Luke grows a little bit close to Damien, to Holden's dismay
As the World Turns News and Headlines
Word is that Daniel Hugh Kelley is on his way back to Oakdale as 'Noah's' father, 'Col. Winston Mayer' some time in June.
Tom Degnan will be joining the cast as 'Riley Morgan' also in June
Cady McClain will return to the role of 'Rosanna Cabot' on Wednesday, May 20
'As the World Turns' fans have an opportunity to bring out their charitable side in them by joining Kelley Menighan Hensley, Jon Hensley, Michael Park and Martha Byrne at the Inaugural Angels for Hope Gala Friday. May 29. The event begins from 7 PM to 11 PM at the Estate at Florentine Gardens, located at 97 Rivervale Road in River Vale, NJ. Angels of Hope is the first major fundraiser event that is held on behalf of St. Jude Children's Research Hospital in Bergen County. Those in attendence will have the opportunity to enjoy a night of fine dining, cocktails, music and dancing along with a silent auction. Tickets are $200.00 each with limited seating. Please visit Angels for Hope or call (212) 239-3239 to reserve.
SON Top 10: Who was the best of the best on "ATWT" during the week of April 27 – May 1, 2009? You decide! The SON Top 10 is back! Voting begins Friday's at 4:00 PM, EST.
SON ALERTS: WEEK OF MAY 11, 2009
Alison tries playing matchmaker with Jade
Katie comes to Vienna's aid
"As the World Turns" airs Weekdays on CBS. Check local listings.
---
---
You may not reproduce content without written permission from author.

© 2009 Soap Opera Network. All rights reserved.
Discussion: ATWT PreVUE: Week of May 4 Edition
---