Sunday, May 10, 2009 11:58 PM ET |
By Venus Stone
---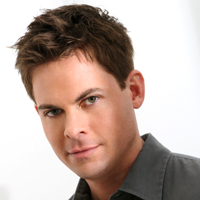 (SoapOperaNetwork.com) — Torn in two…
THIS WEEK ON: AS THE WORLD TURNS
While trying to fix Jade and Hunter up, Alison finds herself bonding with the young man, Monday, May 11. Carly finds herself hitting the bottle again and on Friday, May 15, Janet discovers exactly what Craig has been up to.
The Inside Story: Baby Woes

Still upset at learning that Henry is the true father of Vienna's baby, Katie finds it hard to cope. Vienna, realizing that they have hurt their best friends, still wants to give Brad and Katie the baby to have as their own. Unfortunately Henry begins to have a change of heart and decides he doesn't want to give the baby to them after all. Later that day Brad bumps into Vienna as she is shopping and goes off on her about the fact that Katie is at home depressed. Vienna quickly heads over to her house to comfort her. As the two estranged friends are talking, Vienna asks Katie if she would like to touch her stomach to see if she can feel the baby move. As Katie is doing so, she asks Vienna to reconsider her decision and still let her and Brad have the baby. Unwittingly without really thinking it through Vienna gives the okay to her request. When Henry learns of what Vienna has done, he points out that he doesn't want to give their baby to someone only to have another baby. pointing out that the siblings wouldn't be raised together. Brad, at the same time tells Katie that he doesn't want them to have Vienna and Henry's baby and later heads over to let the couple know. Upset once again about letting their friends down, Vienna and Henry try to come up with another solution.
A Closer Look: A Daughter's Betrayal
When Dusty has a hard time dealing with a stubborn Johnny, he wonders if something could be wrong with him and takes him to the hospital. Lucy appears to check on him but Dusty initially refuses her to see him but relents when he sees that Johnny is responsive to her. That same day, Craig is given a court order that gives him custody of Johnny but when he arrives with Carly at Dusty's he's told that Dusty took the little boy to the hospital. Craig calls Dusty demanding that he brings Johnny to him and smugly toasts his victory. Carly, not pleased with Craig's attitude admits that she feels bad that Johnny is being torn between two people who love him. Meanwhile, Dusty shows up at the Lakeview, minus Johnny, in hopes of talking to Craig about having a place in Johnny's life. Craig quickly denies him but Carly, seeing how hurt Dusty is, talks Craig into giving Dusty a chance. Carly later arranges a lunch with Craig and invites Lucy as well. When Craig shows up he is upset that Lucy is there. He makes it clear that Lucy took precious time away from him by keeping Johnny and that he will never forget what she's done. Hurt by his words, Lucy departs and Carly immediately lays into Craig for his behavior letting him know that he can forget being with her if he can't move forward and forgive his daughter. When they head over to find Lucy at the hotel they find Dusty there instead and he lets them know that Lucy is already gone.
What To Watch
Meg pops the question to Paul
Parker rebellious streak goes one step further
As the World Turns News and Headlines
Word is that Daniel Hugh Kelley is on his way back to Oakdale as 'Noah's' father, 'Col. Winston Mayer' some time in June.
Cady McClain comes back as 'Rosanna Cabot', Wednesday, May 20
Marnie Schulenburg, who plays 'Alison' will appear in a production of the Flux Theater Ensemble's Pretty Theft. The show ran from April 23 and will continue till May 17 at the Access Theater's Gallery, located at 390 Broadway. For ticket information, please call 866-4111
Ellen Dolan, who plays 'Margo Hughes' is appearing in a production of Sophistry, which started April 22 and ends its run June 6 at the Samuel Becket Theater on Theater Row, located at 410 W. 42nd. For ticket information, please contact [email protected]
'As the World Turns' fans have an opportunity to bring out their charitable side in them by joining Kelley Menighan Hensley, Jon Hensley, Michael Park and Martha Byrne at the Inaugural Angels for Hope Gala Friday. May 29. The event begins from 7 PM to 11 PM at the Estate at Florentine Gardens, located at 97 Rivervale Road in River Vale, NJ. Angels of Hope is the first major fundraiser event that is held on behalf of St. Jude Children's Research Hospital in Bergen County. Those in attendence will have the opportunity to enjoy a night of fine dining, cocktails, music and dancing along with a silent auction. Tickets are $200.00 each with limited seating. Please visit Angels for Hope or call (212) 239-3239 to reserve.
SON Top 10: Who was the best of the best on "ATWT" during the week of May 4 – 8, 2009? You decide! The SON Top 10 is back! Voting begins Friday's at 4:00 PM, EST.
SON ALERTS: WEEK OF MAY 18, 2009
Paul finds himself face-to-face with a familiar face
Meg gets some comfort from Damian
Jack uproots the kids from Milltown
"As the World Turns" airs Weekdays on CBS. Check local listings.
---
---
You may not reproduce content without written permission from author.

© 2009 Soap Opera Network. All rights reserved.
Discussion: ATWT PreVUE: Week of May 11 Edition
---