Sunday, April 26, 2009 11:00 PM ET |
By Venus Stone
---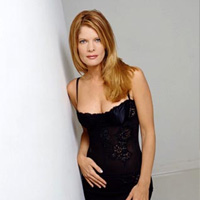 (SoapOperaNetwork.com) — Cold busted…
THIS WEEK ON: THE YOUNG AND THE RESTLESS
Gloria gets a big dose of 'brush off' from Katherine, Monday April 27. That same day, Adam may be basking in the afterglow of love-making with Heather, but Victor's warnings about making trouble may leave a bitter taste in his mouth. On Tuesday, April 28, Ashley insists she hears the cries of a baby.
The Inside Story: Down for the Count
Determined that Sharon goes down stealing, Phyllis continues to talk to Lauren about making sure charges are pressed against her nemesis. While Phyllis is putting the pressure on Lauren, Sharon, on the other hand wants to make things right by doing the right thing. She decides to write out a confession about everything she has taken. Nick, realizing that she's not changing her mind, tries talking her out of it but her mind is made up. Nick tells Sharon he only wants to help her and make sure she realizes what consequences are in store by her going to the police. Sharon points out that the best thing that he could do for her is to go back to the family he has. Meanwhile, after Nick has left, Sharon begins to get a nagging feeling about what happened to her room and decides to do some sluething. She soon finds herself seeing Phyllis on a survillence tape entering her room on the night that she and Nick were up at the Abbott cabin. She quickly gives the information over to the authorities. At Newman Enterprises, Nick approaches Phyllis about how things have been between them and admits that he wants to be with her. Phyllis is thrilled that Nick is returning to her and they are preparing to head home to make up when the police arrive, ready to arrest Phyllis for breaking and entering. A stunned Nick heads back over to see Sharon and insists she drop the charges against his wife. Heather, who is there to take her statement is not pleased when Nick sidelines her and takes Sharon's written confession and burns it in the fireplace. Nick reminds Sharon that it is the anniversary of Cassie's death and that enough has happened already for her to be dealing with more problems in her life. Meanwhile back at the police station Phyllis is approached by Jack who wonders why Nick isn't there by her side. When Phyllis begins to wonder that herself, Jack tells her it's time to end the war with Sharon for good. At that same time, Lauren arrives ready to press charges against Sharon but Phyllis convinces her that it's time to just let it go. When Nick arrives Phyllis lets him know that Lauren won't be pressing charges after all and he quickly gives the news to Sharon in hopes that she drops her charges against Phyllis. Annoyed that Phyllis is once again coming out the winner of Nick's heart, Sharon tells him she'll drop the charges on one condition: he stay out of her life for good.
A Closer Look: Wedding Bells Ring

Katherine is more than ready to tie the knot with Murphy and is thrilled when Brock and Nina return to help celebrate the nuptials. Amber and Mac busy themselves with wedding arrangements while Nikki, who is Kay's matron of honor does her best to get Jill to put aside her anger long enough to join in the festivities. Jill tells Nikki that if she were to arrive all there would be is heartache, since she still misses having Katherine as a part of her life. In an effort to get her mind off of everything that has happened between her and Katherine, Jill heads to the Genoa City Athletic Club and makes some surprising newe drinking buddies in that of Gloria and Jeffrey. Later that day, all of Katherine's family and friends are there awaiting the bride-to-be and groom to take their places as the ceremony gets underway. As Katherine and Murphy get ready to say their vows to one another, they are unaware that Jill has decided to come to wedding after all; fully intoxicated.
What To Watch
Kevin continues to fight his demons
Colleen gets under Victor's skin
Olivia has startling news about Ashley
The Young and the Restless News and Headlines
David Leisure and Marcia Wallace come back Thursday, April 30 as 'Roger' and Annie Wilkes'
Tricia Cast will return as 'Nina Webster' to help celebrate 'Katherine's' wedding day Monday, April 20

Beau Kayser makes his way back to the show as 'Brock' Thursday, April 30, just in time for 'Katherine and Murphy's' wedding
As previously mentioned on SON, Tom Casiello has joined the writing team of Y&R. His first scenes began airing April 20 and will continue April 28, May 12 and May 19.
Tonya Lee Williams returns as 'Olivia Barber Winters' Monday, April 27 through Wednesday, April 28. 'Olivia' comes back with some startling news regarding Ashley's health
John Colton and Jonathan Hayalkar appear as 'Grant Peterson' and 'Brandon' Wednesday, April 28
SON Top 10: Who was the best of the best on "Y&R" during the week of April 20 – April 24, 2009? You decide! The SON Top 10 is back! Voting begins Friday's at 4:00 PM, EST.
SON ALERTS: WEEK OF MAY 4, 2009
A secret falls into the hands of Chloe.
Jill can't help but make a scene.
A 'vision' appears before Sharon.
Ashley is whisked to the hospital.
"The Young and the Restless" airs Weekdays on CBS. Weeknights on SOAPnet. Check local listings .
---
You may not reproduce content without written permission from author.

© 2009 Soap Opera Network. All rights reserved.
Discussion: Y&R PreVUE: Week of April 27 Edition
---