Monday, April 20, 2009 12:27 AM ET |
By Venus Stone
---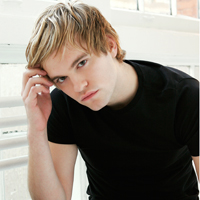 (SoapOperaNetwork.com) — For the sake of her son…
THIS WEEK ON: AS THE WORLD TURNS
Casey and Alison get closer after trying to locate a patient. Vienna and Henry get a warning about keeping secrets from others. On Friday, April 24 Jack gives Parker some not so pleasant news.
The Inside Story: Desperate Measures

Noah, still being held captive by Zac and Zoe tries his best to escape but Zac captures him. Zoe thinks it's time to go into their next phase of their plan and send out a ransom note to Lily, Holden and Luke,telling them that in order to get Noah unharmed to deliver a large sum of cash. Holden instantly assumes that it is Damien behind the plot and lunges at him. Lily, however, insists that Damien couldn't have done it but Luke is very wary. When they get to the police station they fill Margo in on Noah's kidnapping. Luke quickly points the finger at Damien. Getting Lily, Holden and Luke alone, Margo advises against them paying the ransom because it could put Noah in greater harm. A frustrated Luke exits the interrogation room and sees Damien who begs for him to let him lend his help. When Damien enters the interrogation room, Holden once again lashes out that he is to blame for Noah's disappearance. Margo, in the meantime gets news that Damien's finger prints are on the ransom note and quickly puts him in lock-up. Lily, not believing that Damien could have been behind the kidnapping tries to plead with Margo but fails. In the meantime, Luke, who is off by himself gets a text message from 'Noah' telling him where he is. When Luke gets there Zac and Zoe corner him and tie him up. When Lily and Holden get home they find a second ransom note telling them that Luke is also with Noah. Lily insists that they pay the ransom but Holden reminds her of what Margo said. Unable to convince Holden to pay the ransom and that Damien is innocent, Lily takes matters into her own hands by going to the Lakeview to get the security tape. She finds the information she needs and presents it to Margo, who has no choice but to let Damien go. After looking at old photo albums of the Grimaldi family, Damien notices a woman in a picture wearing a Pisces necklace. At that same time, Lily receives yet another note instructing her to deliver the money. She tells Holden about the note and he takes it to Margo. While he is gone, Damien shows up and tells Lily that they have to act now in order to save their son. Lily thinks they should wait till Holden returns but Damien says that Holden would never allow it, which prompts Lily to once again go behind Holden's back to do what she needs to do.
A Closer Look: A Family Out of Control
Craig finds a drunken Parker passed out in the woods and tries to contact Carly. When he can't get her, he has no choice but to contact Jack, who meets them at the hospital. Jack is told by the doctor that Parker's head injury during the fall isn't serious but he's very drunk. Carly in the meantime, is drunk herself and being forced out Yo's. When Craig gets to Carly's place he quickly tries to get her sober enough to get her to visit her son in the hospital but when they arrive, Jack refuses her near him. Jack then lashes out at Craig and tells him that ever since he got back into Oakdale he has been nothing but trouble for his family. When Parker wakes up he is upset at how he acted and even more upset at losing Liberty. Carly, in the meantime, has her own woes and decides it might be best to cut Craig loose, but that all changes when Craig is unable to find a babysitter and decides to show up with Johnny and peace offerings.
What To Watch
Meg plays head games with Paul
Liberty continues to crush Parker's spirits
Dusty comes to Lucy's aid
As the World Turns News and Headlines
Ed Fry returns to the show as 'Larry McDermott' Alison's wayward father
Michael Crecco plays 'Mr Pants' who stirs up trouble for Casey, Monday April 20
Ewa da Cruz ('Vienna'), Trent Dawson ('Henry') and Billy Magnussen ('Casey') will be attending the 11th Annual Southwest Florida SoapFest, an event that returns the best of daytime television's soap opera stars to Marco Island, May 2 and May 3 to raise money for local children's charities. Those interested in ticket and sponsorship information go online to SopaFest or call 239-394-4559
'As the World Turns' fans have an opportunity to bring out their charitable side in them by joining Kelley Menighan Hensley, Jon Hensley, Michael Park and Martha Byrne at the Inaugural Angels for Hope Gala Friday. May 29. The event begins from 7 PM to 11 PM at the Estate at Florentine Gardens, located at 97 Rivervale Road in River Vale, NJ. Angels of Hope is the first major fundraiser event that is held on behalf of St. Jude Children's Research Hospital in Bergen County. Those in attendence will have the opportunity to enjoy a night of fine dining, cocktails, music and dancing along with a silent auction. Tickets are $200.00 each with limited seating. Please visit Angels for Hope or call (212) 239-3239 to reserve.
SON Top 10: Who was the best of the best on "ATWT" during the week of April 13 – April 17, 2009? You decide! The SON Top 10 is back! Voting begins Friday's at 4:00 PM, EST.
SON ALERTS: WEEK OF APRIL 27, 2009
Emily gets another 'partner in crime' to stir up trouble
Holden catches Lily in a lie
Meg and Dusty make Lucy see red
"As the World Turns" airs Weekdays on CBS. Check local listings.
---
---
You may not reproduce content without written permission from author.

© 2009 Soap Opera Network. All rights reserved.
Discussion: ATWT PreVUE: Week of April 20 Edition
---