Sunday, March 22, 2009 8:12 PM ET |
By Venus Stone
---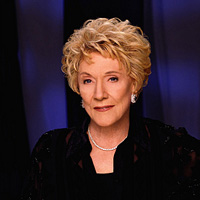 (SoapOperaNetwork.com) — Just below the surface…
THIS WEEK ON: THE YOUNG AND THE RESTLESS
Nikki begins to doubt that Katherine is the real deal on Monday, March 23. That same day Victor puts his two cents in by telling Nikki that the last time she trusted someone, she nearly got herself and others killed. Cane begins to question if gaining custody is the right thing when Lily turns his proposal down, Wednesday, March 25.
The Inside Story: Digging Deep
Unable to get over the fact that nobody believes who she is, Katherine begins to lose hope. Not wanting to give up on her friend, Nikki talks to Paul about another possible way to prove who she is. Paul says that the only other way is to exhume the body to prove that it's truly Marge. Nikki is on board but Heather puts a big damper on things when she tells them that it's not their call to make; they must get Jill's permission, to which she quickly denies. Not giving up, Nikki approaches Victor on the matter. When Victor hedges on helping, Katherine lashes out at him in true form; which makes him realize that it really is her. Victor then convinces Jill into giving the go ahead to have the body exhume, on the condition of his giving her controlling interest in Jabot. In the meantime, Murphy, who truly loves Katherine, pops the question of marriage. She instantly accepts. Things however get nasty between Jill and Katherine when both bicker about who is right.
A Closer Look: Losing Grip on Reality

Amber finally finds herself face-to-face with an injured Kevin. She insists that they get him to the hospital but he refuses, taking them back to the cabin. When Amber tried to talk to him he becomes angry and shoves her in the closet with Clint's dead body and locks it. Through the door Amber tries to convince Kevin that Clint, who he still thinks is his dead father, Tom, is truly dead. Kevin opens the closet door and tells Amber he wants her to help him make a coffin to put the body in. Unfortunately Amber says the wrong thing when she tells him that she thinks they should go to the poilce, causing Kevin to snap, pushing her into the coffin. Meanwhile, no longer in the coffin, Amber is told by Kevin that he's taking her to Canada and that she's going to help him with the next bank.
What To Watch
Jill takes enjoyment in dropping Ashley and Jack
Jana comes unnerved by Kevin's latest downfall
Victor gets a satisfying report from Mary Jane concerning her meeting with Jack
The Young and the Restless News and Headlines
Brian Cousins plays Detective Sloan, who's on the hunt for Kevin Fisher, Tuesday, March 24
Roscoe Born will come back to Genoa City to terroize Kevin as the Ghost of Tom, Tuesday March, 31
Scott L. Scwartz comes to the show, Thursday, March 26 as Amos Slaughter
As previously mentioned on SON, Tom Casiello has joined the writing team of Y&R. His first scenes begin airing April 20 and April 28, May 12 and May 19.
Clementine Ford will be soon joining the cast as Mackenzie 'Mac' Browning beginning April 1.
'Y&R celebrates it's 35th anniversary Thursday, March 26.
Fans can 'get restless' by participating in the Get Restless in Jamaica Sweepstakes. A fan could win their chance of a lifetime to have a 4 day/3 night vacation. Those interested can visit Get Restless in Jamaica
Y&R' made the pages of the current issues of Soap Opera Digest in 'Thumbs Up & Down' regarding the Cane storyline of his determination to take Cordelia.
Congratulations to Maria Arena Bell and Paul Rausch for also making the pages of Soap Opera Digest, in an interview of their working together to bring the show back to it's glory days.
Daniel Goddard will give fans an opportunity to see him Saturday May 9 at the Georgetown Market Place located at 289 Guelp Street in Georgetown, Ontario and the OLG Casino Brantford, located 40 Icomm Drive at Brantford, Ontario The Georgetown event begins at 11AM, while the Brantford event starts at 2:30 PM Those interested in attending please keep in mind that the casino event is for those 19 years of age and over. For more information, please go to Soap Opera Mania on Tour
SON Top 10: Who was the best of the best on "Y&R" during the week of March 16 – 20, 2009? You decide! The SON Top 10 is back! Voting begins Friday's at 4:00 PM, EST.
SON ALERTS: WEEK OF MARCH 30, 2009
Chloe's wedding takes a backseat to Jill and Katherine's arguing.
Cane tries to do the right thing where Billy is concerned.
Phyllis and Nick get snappy about Sharon.
"The Young and the Restless" airs Weekdays on CBS. Weeknights on SOAPnet. Check local listings .
---
You may not reproduce content without written permission from author.

© 2009 Soap Opera Network. All rights reserved.
Discussion: Y&R PreVUE: Week of March 23 Edition
---