Wednesday, March 18, 2009 5:00 PM EST |
By Angela Rosa
---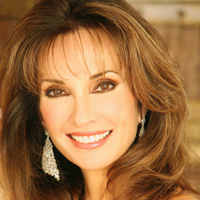 (SoapOperaNetwork.com) — Mother nature.
THIS WEEK ON: ALL MY CHILDREN
Frankie takes action after being overwhelmed by his mother's zealous wedding planning. Reese is determined to prove to Kendall and Erica that she's worthy of Bianca. Amanda has an invited guest at her sonogram appointment, a shameless David. Nurse Gayle, David's cohort in crime, gives Jake the results of Greenlee's autopsy on Tuesday, March 24. The Hubbard's welcome Mrs. Frankie Hubbard, Randi, into their family. DNA tests and ashes don't ease Opal's vibes about Greenlee. Frankie and Randi finally get the perfect honeymoon thanks to Brot and Taylor. Taylor can't help but be disappointed, on Friday, March 27, when Brot voices his views about marriage.
The Inside Story: Possessions
David's blood boils when Erica denies having any knowledge of Adam or Little Adam's whereabouts. Erica's words get to Jesse. The Kane matriarch later slips JR the address to where he can find his son unaware that Krystal has witnessed the exchange. JR and Little Adam share an emotional reunion on Monday, March 23. Adam becomes a fugitive from the law thanks to David's maneuvering. Erica informs JR that his father is in a Philadelphia hospital suffering from a heart condition. JR decides to leave the country with Little Adam. Krystal catches a glimpse of Little Adam when JR arrives at the mansion to say his goodbyes. Despite Colby's efforts JR ends up under arrest. David learns Little Adam has been placed in foster care. David arranges a meeting with "his" judge as he and Krystal plot to get their grandson once and for all. JR panics when he fears his father is in distress. Erica takes action after discovering David has the judge for Little Adam's custody hearing in his back pocket. On Thursday, March 26, Erica alerts a seething David to a judicial change in the custody hearing. Jesse arranges for Little Adam to stay with him and Angie. Little Adam's temporary custody hearing gets underway. JR and Tad's testimony gets under David's skin. The judge makes a surprising decision in regard to Little Adam's custody.
A Closer Look: Battleground
Zach rips into Aidan for not disclosing to him that Ryan and Kendall slept together. Reese urges Kendall to fight for her marriage. A conflicted Kendall gets the rug pulled out from under her by Zach. Zach is unreceptive to Kendall's desire to fight for their marriage. Zach declares to Kendall that Ryan has always been and will always be the problem between them and tells her that their marriage is beyond repair. Ryan receives confirmation that the body in the Connecticut morgue was indeed Greenlee's. Kendall and Ryan turn to each other and end up in bed again. Zach focuses on stopping Ryan's takeover bid. Erica tries to convince Zach not to give up on his marriage. Zach inform Erica that his marriage is already a lost cause. Kendall tries to reach out to Zach on Wednesday, March 25. Zach walks out on Kendall again as she's unable to find the right words. Erica ponders Kendall's inability to be alone. Kendall prepares to leave town with the boys, but leaves a message for Ryan in the hope that he'll show up to stop her. Zach throws down the gauntlet with Ryan who informs Slater that the battle is over – he already owns Cambias Industries and the casino. Unsatisfied with the results of his work, Zach punches Aidan and lets him know their deal is off. Kendall confronts Ryan about his takeover of Cambias. Kendall and Ryan try to convince themselves that they can build a happy future together. Zach arrives at the casino with a challenge for Ryan.
All My Children News and Headlines:
SON ALERTS: WEEK OF MARCH 30, 2009
Monday: Zach doesn't buy Kendall's claims of innocence. Krystal pushes David too far. Jake assures Amanda she's doing the right thing.
Tuesday: Tad is appalled by Krystal's behavior. Annie is haunted by her dreams. Frankie makes plans for the future.
Wednesday: Zach lays down the law with Kendall. Jake comes to Amanda's rescue. Krystal takes her anger out on Tad and JR.
Thursday: Ryan accuses Kendall of wanting to get back together with Zach. Krystal and JR reach a stalemate. Zach and Kendall get alarming news about Ian.
Friday: Erica asks Ryan to keep his distance from Kendall. JR gets unsettling news about Adam. Aidan does some digging into Annie's past.
"All My Children" airs Weekdays on ABC. Weeknights on SOAPnet. Check local listings.
---