Sunday, March 22, 2009 11:19 PM ET |
By Venus Stone
---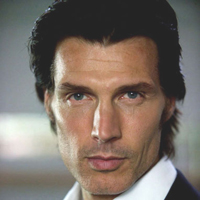 (SoapOperaNetwork.com) — Back for a reason…
THIS WEEK ON: AS THE WORLD TURNS
Jack lashes out at Parker for running to Craig and then later arrests him. Dusty and Meg get into another liplock with one another. Paul threatens Meg.
The Inside Story: Home for a Purpose


Lily help Luke and Noah by going on WOAK to expose housing discrimination against the gay community. Things are going fine when they get positive responses on the show but quickly turn sour when hate mail is left at Lily's doorstep. Keeping up the positive spirit, Luke puts together a fundraiser at Metro for gay/lesbian rights Noah, along with Luke share the news with Holden and Lily, who offer nothing but support to their son. Holden soon becomes concerned that Luke's goals could put the family at harm but soon brushes the concern away. As the fundraiser gets underway, Luke honors his mother in a moving speech and later heads outside to grab some it information when a car hits him. Soon after a man comes to see if Luke is alright and takes him to the hospital. Noah, Holden and Lily rush to the hospital after hearing what has happened and are told Luke will be fine. Margo soon arrives to get information about the accident but is told by the doctor she has to leave so Luke can rest. When everyone has left the room, the person who was there earlier returns to Luke's room and Luke is stunned to realize that it is Damien. Meanwhile, Holden and Lily decide to return to Luke's room and are stunned to see Damien's back in town, let alone sitting by their son's bed.
A Closer Look: Blackmail's the Name of the Game
After receiving information from Emily about Lucy's secret business on the docks and how she's using Craig in the process, Paul decides to pay Lucy a visit. When he confronts her, he tells her that he is well aware of her using Craig and Carly's business to do some dirty dealings. He tells Lucy that if she doesn't want the information to be disclosed to Craig, she'll do what he wants her to; get Dusty away from Meg for good. Lucy tells him that she can't do that, but Paul tells her that she will do exactly as he tells her. He says the sure way to get Dusty and Meg apart is for her to seduce him into sleeping with her and that she has 24 hours to do so. Despite her reluctance, Lucy realizes she has no choice but to do as Paul says.
What To Watch
Vienna and Henry get devastating news
Alison pushes Casey closer toward his parents
Jack walks in on Carly and Craig in bed
As the World Turns News and Headlines
Nicholas Galbraith and Melinda Sullivan will come on the show as Zac and Zoe Finn on April 1 to help Luke with the foundation; but could they actually stir up some trouble?
Danielle Ward plays a District Attorney that will be in charge of Parker's case of robbery, Thursday, March 26. Ward received her role on the show as part of the Secret Flawless Sam's Club Once-in-a-Lifetime exclusive package
Adam LeFevre will play a judge that will determine Parker's fate, Monday, March 30
Allen McCullough stirs up trouble again for Luke and Noah Tuesday, March 24 as Mr. Reese
Word is that Cady McClain will be returning back to Oakdale as Rosanna Cabot. Cabot's airdate has been slated for May 20
'As the World Turns' fans have an opportunity to bring out their charitable side in them by joining Kelley Menighan Hensley, Jon Hensley, Michael Park and Martha Byrne at the Inaugural Angels for Hope Gala Friday. May 29. The event begins from 7 PM to 11 PM at the Estate at Florentine Gardens, located at 97 Rivervale Road in River Vale, NJ. Angels of Hope is the first major fundraiser event that is held on behalf of St. Jude Children's Research Hospital in Bergen County. Those in attendence will have the opportunity to enjoy a night of fine dining, cocktails, music and dancing along with a silent auction. Tickets are $200.00 each with limited seating. Please visit Angels for Hope or call (212) 239-3239 to reserve.
'As the World Turns' fans will want to take advantage of seeing some of their favorite stars when they host the ATWT Annual Fan Club Luncheon 2009 on April 18 from 12:00 Noon until 4:00 PM at the Marriot Marquis located at 1535 Broadway, New York, NY. Those interested are required to pay a $25.00 non-refundable deposit per person in order to reserve seating. Those who are current fan club members pay $125 and non-fan club members pay $135 For more information regarding the event, please visit ATWT Fan Club
SON Top 10: Who was the best of the best on "ATWT" during the week of March 16 – 20, 2009? You decide! The SON Top 10 is back! Voting begins Friday's at 4:00 PM, EST.
SON ALERTS: WEEK OF MARCH 30, 2009
Craig and Jack go toe-to-toe.
Zac and Zoe give Luke and Noah some help.
Damien continues to try with Luke.
"As the World Turns" airs Weekdays on CBS. Check local listings.
---
---
You may not reproduce content without written permission from author.

© 2009 Soap Opera Network. All rights reserved.
Discussion: ATWT PreVUE: Week of March 23 Edition
---