Monday, March 16, 2009 2:24 AM ET |
By Venus Stone
---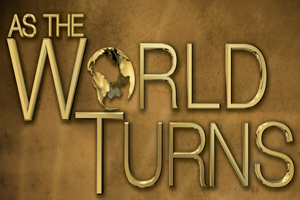 (SoapOperaNetwork.com) — Runaway love…
THIS WEEK ON: AS THE WORLD TURNS
Noah and Luke's joy in moving in together is ruined by a discriminating landlord. Lily decides to take a job at the foundation to help Luke and Noah. Vienna and Henry have nothing but good news to share with Brad and Katie on Wednesday, March 18 . The show will be pre-empted Thursday, March 19 and Friday, March 20 for the NCAA Basketball Tournament.
The Inside Story: Young and Married


Unwilling to go to boarding school and fed up with his parents telling him what to do, Parker tells Liberty that they will do whatever it takes to be together; even getting married. While with Carly, Parker tells her that he's going to see a hockey game, while back with Janet, Liberty tells her that she's going to be with Brad checking out potential colleges. Once together the two teens head out of town, they go before the judge to get wed. The judge is instantly suspicious as to why they both want to rush into getting married so young. Parker tells the judge he wants to be emancipated because he feels that his parents have destroyed his life. As Parker is explaining further, the mention of boarding school comes out and the judge quickly realizes that it is the true reason why Parker and Liberty want to get married and promptly prepares to tell them no. At home in Oakdale Carly soon suspects that something is fishy and relays the information to Craig who instantly offers his help. Craig soon finds information on Parker's computer and they head out. Meanwhile Parker and Liberty continue to plead their case to the judge by telling him that the main reason why they want to get married is to protect his trust fund from his mother. At that moment Carly and Craig arrive to hear Parker trashing Carly's character and when she has an outburst begging Parker not to do what he's thinking, the judge takes Parker's side and decides to grant the teens what they want. Craig quickly calls Jack and Janet and tell them to get down to the judge's chambers immediately. Unfortuantely Carly has to watch Parker and Liberty get married just as Jack and Janet arrive too late to stop it. When they all return home Jack wipes the smug look of Parker's face when he tells him that he no longer wants either one of them at the farmhouse. Carly and Janet are livid and take their anger out on Jack who stands his ground. When Janet leaves to go look for the newly married teens Jack and Carly start to argue about who is at fault for Parker's actions. Carly tells Jack she doesn't even recognize who he is anymore and storms out. Craig later calls and tells Carly that he's located Parker and Liberty and gave them a room at the Lakeview. Carly decides to keep Jack in the dark but inform Janet about it. Meanwhile Jack heads home and is confronted by Janet who still can't believe she kicked their children out. When Jack tells her he's not sorry for what he did Janet keeps the news about their whereabouts to herself. Back at the Lakeview. Parker and Liberty's honeymoon is bittersweet when they realize that they are in for tough times.
A Closer Look: Love the One You're With
Dusty wants to pour on the charm by whisking Meg to Chicago for a much needed date night. When Holden learns of his plans he quickly does his hardest to try to convince Meg not to go, while Lily advises Dusty not to be with Meg strictly for rebound purposes. Dusty is soon disappointed when Meg calls to cancel based off of Holden's conversation.Later, Meg goes to pick up Eliza at Fairwinds and Paul is overly happy to see her and even more so when he learns that she canceled her plans with Dusty. The two are talking and Meg, feeling sorry for Paul lets him keep Eliza longer. She soon heads to the Lakeview to drop off the clothes Dusty bought for her. Dusty, frustrated, wants to know why she's suddenly becoming hesitant about being with him. Meg admits that she shouldn't keep the clothes if they aren't even in a true relationship with one another. Not giving up, Dusty pulls her into a serious kiss. Back at Fairwinds Paul receives a call from Emily telling him that she believes that Lucy is up to no good. Paul shoots back he's not interested in Lucy but much rather have interest in the fact that Meg and Dusty aren't together. He later decides to take Eliza to the farmhouse and wait till Meg returns home. Unfortunately for him, Meg's not returning home as she and Dusty fall into bed making love to one another. Meanwhile Paul, upon learning that Meg is with Dusty barges into his room and catches the two together. Stalking off Paul calls Emily and tells her that Meg and Dusty will pay.
What To Watch
Emily sticks her nose in Craig's business
Lucy informs her contact that she'll deal with Emily
Brad and Katie have reason to celebrate
As the World Turns News and Headlines
Nicholas Galbraith and Melinda Sullivan will come on the show as Zac and Zoe Finn on April 1 to help Luke with the foundation; but could they actually stir up some trouble?
Mo Kanekoa portrays Cesar, a man that has some business with Lucy on Monday, March 16
Allen McCullough stirs up trouble for Luke and Noah Monday, March 16 as Mr. Reese who is a landlord of an apartment that the two want to reside in
Word is that Cady McClain will be returning back to Oakdale as Rosanna Cabot. Cabot's airdate has been slated for May 20
'As the World Turns' fans have an opportunity to bring out their charitable side in them by joining Kelley Menighan Hensley, Jon Hensley, Michael Park and Martha Byrne at the Inaugural Angels for Hope Gala Friday. May 29. The event begins from 7 PM to 11 PM at the Estate at Florentine Gardens, located at 97 Rivervale Road in River Vale, NJ. Angels of Hope is the first major fundraiser event that is held on behalf of St. Jude Children's Research Hospital in Bergen County. Those in attendence will have the opportunity to enjoy a night of fine dining, cocktails, music and dancing along with a silent auction. Tickets are $200.00 each with limited seating. Please visit Angels for Hope or call (212) 239-3239 to reserve.
'As the World Turns' fans will want to take advantage of seeing some of their favorite stars when they host the ATWT Annual Fan Club Luncheon 2009 on April 18 from 12:00 Noon until 4:00 PM at the Marriot Marquis located at 1535 Broadway, New York, NY. Those interested are required to pay a $25.00 non-refundable deposit per person in order to reserve seating. Those who are current fan club members pay $125 and non-fan club members pay $135 For more information regarding the event, please visit ATWT Fan Club
SON Top 10: Who was the best of the best on "ATWT" during the week of March 9 – 13, 2009? You decide! The SON Top 10 is back! Voting begins Friday's at 4:00 PM, EST.
SON ALERTS: WEEK OF MARCH 23, 2009
Alison works to bring Casey closer with his parents.
Jack catches Carly and Craig in the act.
Damien comes back to Oakdale.
"As the World Turns" airs Weekdays on CBS. Check local listings.
---
---
You may not reproduce content without written permission from author.

© 2009 Soap Opera Network. All rights reserved.
Discussion: ATWT PreVUE: Week of March 16 Edition
---