Sunday, March 15, 2009 6:33 PM ET | By Angela Rosa
---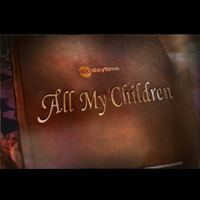 (SoapOperaNetwork.com) — The latest casting news for "All My Children."
The very handsome Adam Mayfield has joined the cast of "All My Children."
Mayfield will be the forth adult actor to take on the role of Stuart Chandler's (David Canary) son, Scott. He follows Shane McDermott, Daniel Cosgrove (who currently plays Bill on CBS's "Guiding Light") and Forbes March (who most recently portrayed Nash on "One Life to Live") in the role of the good boy Chandler. Mayfield's credits include roles on "Girlfriends," "The Hughleys," "Just Shoot Me," "Walker, Texas Ranger," and "Boston Public."
The character of Scott was born the biological son of Cindy Parker (Ellen Wheeler). Stuart adopted his wife's young son prior to her death from AIDS. Scott's most infamous romantic link was with Greenlee Smythe; the pair hooked up in college and ever the vixen Greenlee made sure Scott paid the price for that. Scott was last seen in the fall of 2000 (played by March). Mayfield first airs on Thursday, April 9.
Scott's dad, Stuart, returns to the scene as well. David Canary, of course, portrays both Stuart and Adam Chandler. Look for Pine Valley's favorite set of twins to reappear on a television screen near you during the week of April 6. After almost five weeks off, Emmy-winner David Canary returned to the set to tape this past week.
Thorsten Kaye, who has played casino owner Zach Slater on "AMC" since May 20, 2004, did not opt-out of the contract he re-signed in the spring of 2007. Recent reports detailed stalled negotiations between executives and the former "One Life to Live" and "Port Charles" star but things ironed out and on March 10 the actor gave his official site the go ahead to report that he's staying with the ABC soap for "a while longer."
In other casting news, Eden Riegel recently reported to Soap Opera Network that she'd be back on set in a few weeks to wrap up the Reese (Tamara Braun) and Bianca love story, complete with a happy ending. Expect to see Bianca back on-screen by mid-to-late April. Both Braun and Riegel are expected to exit their roles after the story wraps up. Joe Martin will come out of the hospital attic, briefly. The seldom worked Ray MacDonnell appears in his doctor scrubs as April blooms in. Lauren Singerman plays the recurring role of Tori on "AMC;" you first caught a glimpse of the character this past Friday. Following in the footsteps of Dr. Sinclair (McKenzie Westmore), there's more to this psychology student's connection to Annie (Melissa Claire Egan) than meets the eye. Annie's psychologically fit and cute doctor, Dr. Burke, played by John Behlmann will also continue to air on the soap in a recurring capacity. Meredith Patterson plays new casino assistant, Francesca. As Dr. Hayward (Vincent Irizarry) continues to cause trouble and get away with murder, expect to see more of his minions – attorney Jay Stark and Nurse Gayle. Stark is currently played by Drew McVety, and Nurse Gayle is played by Anna Koonin.
Rumor Mill: Rumor has it that former star of "Melrose Place," "Savannah" and "Profiler" Jamie Luner is set to join the cast of "AMC" as a Chandler vixen. Time will tell. Don't expect Dixie to pull a Jesse (Darnell Williams) anytime soon. Cady McClain is returning to CBS's "As the World Turns" as Rosanna in May. In her latest blog, McClain tells disappointed "AMC" fans that ABC never contacted her about returning after her short stint in May 2008.
"All My Children" air Weekdays on ABC. Weeknights on SOAPnet. Check local listings.
---