Saturday, February 21, 2009 9:41 PM ET |
By Venus Stone
---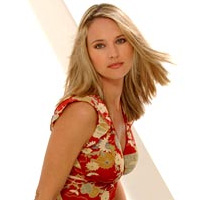 (SoapOperaNetwork.com) — Uncharacteristic behavior…
THIS WEEK ON: THE YOUNG AND THE RESTLESS
Chloe decides to tell Esther the truth about Cordelia, while Cane's more than ever determined to take the newborn away from both her parents when he meets with Michael. Tyra makes her situation worse with Ana when she tries to hit the road. It's yet another showdown between Heather and Victor when she gets in his face on Wednesday, February 25 about his treatment toward Adam.
The Inside Story: Coming Unhinged
Sharon heads to the Abbott mansion to pick up a few items she's left behind, where she and Jack have a tense moment. The moment is soon broken when Billy arrives, which makes Sharon a bit unnerved. Once the two of them alone, Billy and Sharon talk about what happened between them the night before; Sharon wants it to be kept strictly between them. The two share a brief moment of flirtation when Jack returns into the room. Once alone together Jack instantly tries to worm his way back into Sharon's heart by apologizing for all the things he's done to cause their destruction of their marriage. Sharon dismisses him, however, letting him know that it is too late for that and that she has moved on with her life without him in it. Later that same day Sharon is at the bookstore with Noah and Eden getting some things for him when she slips a few books into Noah's book bag. When Shl aron gets a phone call from the hospital telling them that her mother has been admitted she tells Noah and he passes his bag over to Eden. Eden, trying to leave the store sets off the sensors and is stop immediately by security. Meanwhile at the hospital, Sharon and Noah are relieved to learn that Doris will be fine but once Noah steps out of the room to leave Sharon with her mother, she has a breakdown. Sharon tells Doris that she doesn't know what's going on with her and how she has been blanking out for short periods of time. Doris suddenly stuns Sharon with the news that her blanking out has happened to her in the past; something she refuses to listen to. Their serious discussion is interrupted however when Nick calls to tell her that Eden has been nabbed for shoplifting and that the bookstore manager wants to press charges. An upset Sharon heads over the to store when she notices that she has Brad's ceramic elephant in her bag. Once she arrives at the bookstore she snaps on Phyllis and then goes after Eden. Nick seeing how she's talking to them comes in-between and tries to calm her down, which causes Sharon to lash out him.. She soon leaves and finds herself driving over to of all places, Brad's house. Letting herself in, Sharon suddenly finds herself having a serious panic attack.
A Closer Look: Rising From the Ashes
Gloria gets a visit from Jeffrey, who tells her that he wants out of his marriage. Gloria becomes furious telling him that he's once again abandoning her, especially now that Michael has informed her that her trial is approaching in a few days. Jeffrey, however, isn't interested in Gloria's pleas to stick with her, going as far as to tell her that he might just decide to take up with is former flame from Korea. Feeling alone, Gloria decides that she has no other option but to be truthful in why she tainted the Jabot face cream. As she is pouring her heart out to Michael, he informs his mother that she wasn't responsible for Emma Gibson's death after all; rather, she died of an allergic reaction to something she ate. Things start to look up for Gloria but when they arrive for their court proceedings, the judge lets her know that her actions have consequences and he's ready to make his decision right there and now.
What To Watch
Colleen is more than determined to be a part of the Newman board
Victor puts JT to work on finding out who Colleen's influence is
Katherine tries in vain to keep from meeting her maker
The Young and the Restless News and Headlines
Sara Buehler returns as Imogene, Gloria's jailbird friend on Tuesday, February 24
Karen Hensel returns to the show as Sharon's mother, Doris on Thursday February 26
Judge Karen Mills-Francis, the real life judge from reality show Judge Karen, comes to the show as a process server beginning Monday, March 16
Stacy Haiduk, as mentioned several times here on SON, will appear as Mary Jane, a possible love interest for Jack Abbott beginning Wednesday, March 18
Elena Lyons plays Marisol, a Social Worker that is overseeing the case of Ana
Clyde Kusatsu, reknown actor of many movies and television series, plays Chloe's doctor, Dr. Dennis Okamura on Wednesday, February 25
'Young and the Restless' is mentioned in the current issue of Soap Opera Digest as being one of the best in terms of bringing back Eilleen Davidson's character Ashley Abbott back to the show
Fans can 'get restless' by participating in the Get Restless in Jamaica Sweepstakes. A fan could win their chance of a lifetime to have a 4 day/3 night vacation. Those interested can visit Get Restless in Jamaica
SON Top 10: Who was the best of the best on "Y&R" during the week of February 16 – 20, 2009? You decide! The SON Top 10 is back! Voting begins Friday's at 4:00 PM, EST.
SON ALERTS: WEEK OF MARCH 2, 2009
Sharon's knack for taking things gets worse.
Kay and Esther's lives are put in serious danger.
"The Young and the Restless" airs Weekdays on CBS. Weeknights on SOAPnet. Check local listings .
---
You may not reproduce content without written permission from author.

© 2009 Soap Opera Network. All rights reserved.
Discussion: Y&R PreVUE: Week of February 23 Edition
---