Monday, February 23, 2009 12:22 AM ET |
By Errol Lewis
---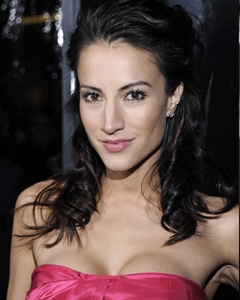 (SoapOperaNetwork.com) — America Olivo is enjoying a wonderful life after being let go from ABC's "General Hospital."
Olivo, who portrayed the first Marianna on the ABC soap in 2008 before being replaced by the more seasoned Yennifer Behrens a few weeks later, can currently be seen in the horror film revival of the legendary "Friday the 13th" franchise. In "Friday," Olivo portrays Amanda, a camper who joins her friends for a little fun near Camp Crystal Lake. Unfortunately for them, they encounter Jason Voorhees – the big man with a machete who stops at nothing to get his kill.
Since opening in theaters on, you guessed it, Friday the 13th, "Friday" has amassed $55 million at the domestic box-office and a haul of  $65.4 million worldwide.
"Friday the 13th" also stars Amanda Righetti ("The O.C.," "The Mentalist"), Jared Padalecki ("Supernatural") as Whitney and Clay Miller and Ryan Hansen ("Veronica Mars") as Nolan.
Coming up for Olivo is a starring role in "Bitch Slap," a film that finds three women extorting $200 million from a ruthless kingpin. She portrays Camero, one of the girls along-side Erin Cummings ("Dollhouse") and realtive newbie Julia Voth. Minae Noji ("General Hospital") and Ron Melendez ("General Hospital: Night Shift") also appear with Lucy Lawless ("Xena: Warrior Princess") and Kevin Sorbo ("Hercules"), who make cameo appearances. The film is set for release this spring.
On the web: Bitch Slap Movie
---
Discussion: '13' Lives After 'GH' For America Olivo
---
General Hospital
America Olivo
Jared Padalecki
Amanda Righetti
Friday the 13th