Wednesday, February 11, 2009 5:00 PM EST |
By Scotty Gore
---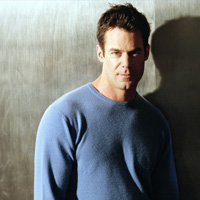 (SoapOperaNetwork.com) — 'Till Death Do Us Part.
THIS WEEK ON: ONE LIFE TO LIVE
Stacy tells Gigi that their parents died in a tragic car accident. Starr reacts impulsively to Cole's news regarding Llanview University on Wednesday, February 18. Stacy keeps her one night stand with Fish a secret. Natalie and Jared continue their quest to uncover the details of the night Chloe was born. On Thursday, February 19, Markko decides not to tell Langston that he's been accepted to UCLA. Lola confronts Vanessa. Cristian stands behind his woman. Ray escapes from prison and heads for Llanview. Cristian suffers a blow to the head. Stacy gets comfortable with Rex, Gigi, and Shane. Starr confides in Schuyler, and ponders his past.
The Inside Story: Can't We All Just Get Along?
Dorian comes clean to David on Monday, February 16. about why she married him. David finds himself at a crossroads, and ends up sleeping with the enemy. Enjoying their final night in Asa's mansion, the Buchanans have a wild night. David returns to his old self, with Dorian by his side. On Tuesday, February 17, Bo, Clint, Nora, Renee, and Nigel all wake up with one hell of a hangover and are shocked by what happened the night before. David and Dorian prepare to claim what is theirs. Bo and Nora awake next to one another.  David reminds his newfound family that revenge is a dish best served cold. A boastful Dorian claims David now owns the Palace as well, thanks to a loophole in Asa's will. As Dorian and David order the Buchanans to vacate the property immediately, Bo swipes one of David's hairs for a DNA test.
A Closer Look: Strange Bedfellows
Wes kicks Todd's behind, thus ending their brawl. Not to be outdone, Marty and Blair also have a confrontation. Wes pulls a knife on Todd. Antonio and Talia bust up the rucus. John is vocal in his belief that Wes killed Lee Halpern, and continues to anger Blair. Meanwhile, Wes tells Marty that he is fed up with her childish behavior just before she passes out. Come sunrise the following morning, several of the Go Red Ball attendees wake up to surrprises in their beds. On Tuesday, February 17, John races toward Marty's room when she screams bloody murder. Across town, Todd explains to a relieved Blair how she found her way to his bed. Marty has blood on her hands, and Wes' dead body next to her. Blair plans to extend an olive branch to John, who is confident that Marty is not a murderer. Infuriated by what she sees, Blair tips off Antonio and Talia on Wednesday, February 18. However, while working the crime scene, the duo discover more questions than answers. Shadows of guilt and suspicion are cast upon both Todd and Marty. Cole and Starr are horrifed to learn of their parents actions. Afterward, Cole confesses that he visited Marty the previous night, only to leave when he heard Wes' voice. At St. Ann's, Brody confesses to Jessica that he spent the preceeding night out walking and thinking. Tea struggles to control her jealousy of Todd and Blair. As the news of Wes' murder begins to spread around Llanview, several people exhibit strange behavior. Marty is interrogated by Talia, while Tea takes Todd to the police station. Jessica calms Brody's fears. Tea challenges Blair, who is forced to publicly admit that she spent the night with Todd. Antonio puts the cuffs on Marty after her fingerprints are found on the murder weapon on Friday, February 20. And John is too concerned about Marty to listen to Blair's explanation.
One Life to Live News and Headlines:
SON ALERTS: WEEK OF FEBRUARY 23, 2009
Monday: Bo and Clint have a few tricks up their sleeves. Jared and Natalie are on a mission. Vanessa has a confession to make.
Tuesday: Natalie is more determined than ever. David and Dorian refuse to go quietly. Cristian is betrayed by the woman he loves.
Wednesday: David's paternity is again in doubt. Stacy's behavior worries Gigi. Rex demands the truth from Roxy.
Thursday: The Buchanans receive some shocking news. Blair confronts John. Lola has a secret.
Friday: Viki gives David some food for thought. Starr ends her relationship with her father. Gigi continues to be troubled by her sister's actions. Thinking Starr told Schuyler about his drue use, Cole fumes with anger.
"One Life to Live" airs Weekdays on ABC. Weeknights on SOAPnet. Check local listings.
---