Wednesday, February 11, 2009 5:00 PM EST |
By Angela Rosa
---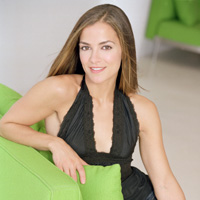 (SoapOperaNetwork.com) — Fallout.
THIS WEEK ON: ALL MY CHILDREN
JR takes notice of how jumpy Amanda seems in front of Frankie, Jake and Randi whenever he's around. A lucid Annie finally comes to grips with the finality of her and Ryan's relationship and vows to get better for her daughter on Monday, February 16. David continues to put the pressure on Amanda. Aidan turns the tables on Sinclair, who angrily confronts Annie. Aidan comes to Annie's rescue just in time and promises to always protect her. Sure she's dying, Sinclair confesses all to Jesse on Thursday, February 19. David orders Joe to bed rest after he suffers chest pains; Joe tells his boys that it's up to them to continue the fight against David.
The Inside Story: Cliff Notes
Kendall loses control of the car while arguing with Zach and ends up on the wrong side of the road just as Greenlee's motorcycle approaches. Zach tells Kendall that he's going to take the blame for the accident after finding what's left of Greenlee's mangled bike near the riverbank. Ryan arrives on the scene and jumps into the freezing water in a desperate attempt to find Greenlee. Kendall admits to Ryan that she and Zach were arguing in the car before the accident which prompts Lavery to bring up Reese and Zach's earlier encounter. Ryan attacks Zach. Zach and Kendall arrive back at Bianca and Reese's reception with news of the accident. Ryan refuses to give up hope but soon receives damning evidence of Greenlee's fate. David and Aidan blame Zach for Greenlee's demise. A vision of Greenlee appears before Kendall, telling her that the accident wasn't her fault or Zach's. Erica reaches out to a heartbroken Jack. Aidan works to disprove Sinclair's claim that Annie tampered with the brakes on Greenlee's bike. Aidan blames Ryan for Greenlee's death. Jesse breaks up Aidan and Ryan's fight. Alone, Ryan breaks down into sobs. Ryan arrives at Zach's empty casino and informs him that he is going to pay for taking Greenlee from him. Zach squares off with Ryan on Thursday, February 19. Kendall takes Ryan back to his penthouse. Ryan and Kendall face the heartbreaking task of telling Emma about Greenlee. Kendall struggles to live with her lie. Ryan warns Erica that he is going to destroy Zach and that it's her responsibility to make sure Kendall isn't hurt in the fallout.
A Closer Look: The Kiss Off
At the chapel, Kendall seethes at the sight of Reese and then collapses after clutching her chest. Ryan tells a crushed Bianca about Reese and Zach's embrace. At the hospital, Zach admits to Kendall that he did kiss Reese but claims there's nothing between them and tries to explain their relationship to her. Kendall shuts down on Zach. Bianca doesn't fare much better with Kendall and heads out to confront Reese. Reese begs Bianca for her forgiveness. Reese is rocked to the core when Bianca takes the kids and walks out on her. Bianca accuses Reese of only wanting Gabrielle because it keeps her connected to Zach. Erica's heart breaks for Bianca. Kendall doesn't want Zach anywhere near her. Erica urges Kendall not to throw her marriage away and later tells Zach that he has to make things right. Mrs. Slater returns home and kicks Reese out on Wednesday, February 18; meanwhile, Mr. Slater arrives at the casino where he kicks everybody out and begins drinking. Bianca stuns Reese with annulment papers. Reese makes it clear to Bianca that she's not giving up Gabrielle without a fight. Erica allows Reese to hold Gabrielle but tells Reese she only has herself to blame for the mess she's in. Bianca lashes out at Zach and warns him that he'll never have any contact with Gabrielle on Friday, February 20. Bianca turns to Kendall, who refuses to help her in her fight against Reese. Reese, meanwhile, turns to Zach for help in stopping Bianca from taking Gabrielle.
All My Children News and Headlines:
SON ALERTS: WEEK OF FEBRUARY 23, 2009
Monday: Kendall tells Bianca the bond they shared is broken forever. Zach refuses to help Reese. David warns Amanda to stick to the plan.
Tuesday: Zach won't tolerate the distance between him and Kendall. Bianca shares an emotional goodbye with Erica and Kendall. Krystal and JR grow suspicious of David and Amanda.
Wednesday: Reese lets Zach and Kendall know she's not going anywhere. David puts the screws to Amanda. Aidan admits to Angie he's fallen in love with Annie.
Thursday: Jake convinces Krystal to keep Amanda's secret. Reese tells Adam she overheard Kendall's confession. Ryan plans on stealing the casino away from Zach.
Friday: Adam is confident he has the ammunition he needs to take Zach down. Amanda can't go through with destroying JR. Angie's shocked to learn what Jake and Frankie did.
"All My Children" airs Weekdays on ABC. Weeknights on SOAPnet. Check local listings.
---