Friday, January 23, 2009 10:37 PM ET |
By Venus Stone
---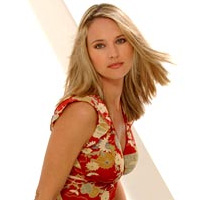 (SoapOperaNetwork.com) — Unreciprocated feelings…
THIS WEEK ON: THE YOUNG AND THE RESTLESS
Phyllis's marriage to Nick continues to unravel before her eyes. Brad continues to have issues with Victor, but on Wednesday, January 28, Victor puts the smack down by giving him a serious ultimatum. Also on that same day, Nikki gets some very troubling news about her sister, Casey. Trouble is Noah's middle name Thursday, January 29.
The Inside Story: She's Just Not That Into You
Unable to forget his love for Sharon, Brad decides to go to the Abbott cabin where she is as a surprise. Sharon, however, is neither happy or interested in seeing him and tells him that she's tired of dealing with people that do nothing but lie and hurt her; and he did that the minute he decided to go in cahoots with Phyllis to sabatoge her marriage to Jack. As she and he continue to talk, Brad soon begins to realize that the only person that will ever have her heart is Nick. Sharon admits that Nick will always be a part of her life; not only have they known and loved each other since highschool but they also have a child together. With his feelings hurt, Brad comes to terms with Sharon's rejection and promises to leave her alone. Brad soon departs trying to return home before the storm.
A Closer Look: A Deal with the Devil
After turning Jill, Jeffrey and Jack down flat for her stock, Gloria agrees to give Victor her Jabot stock for some serious cold hard cash from him. Victor, however, stresses that Gloria keep her mouth shut as to who bought the stock. Gloria is thrilled that it was Victor that has come to her and begins to think about how he could benefit her in the long run. Unfortunately the jokes on her when Victor secretly takes the stock and gives it to Jill; but with Victor in control, there is just one more catch….
What To Watch
Brad gets the taste slapped out his mouth
Esther throws caution to the wind
The Young and the Restless News and Headlines
Tom Casiello will soon be returning as a writer of the show
Ivar Brogger plays a gem dealer that is involved in the emerald ring belonging to Katherine. His first airdate is January 28
David Leisure who plays Roger Wilkes returns on January 27
Don Diamont's final air date as Brad Carlton (a role he's had since 1985) is slated for Thursday, February 5
Don Diamont (Brad) and Christian J LeBlanc (Michael) will join other daytime stars to set sail on Soap Cruise, The Second Voygage, Thursday, January 22 until Monday January 26. Those interested can go to Soap Cruise or call (248) 855-7918
Don Diamont (Brad), Christian J. LeBlanc (Michael), Daniel Goddard (Cane) and Michelle Stafford (Phyllis) will be participating with other soap stars in Soap Opera Mania–On Tour. The event will kick-off Saturday, February 7 in Macon, Georgia. Please visit Soap Opera Mania or call (866) 364-0330 to find out which city and state these stars will be appearing.
SON Top 10: Who was the best of the best on "Y&R" during the week of January 19 – 23, 2009? You decide! The SON Top 10 is back! Voting begins Friday's at 4:00 PM, EST.
SON ALERTS: WEEK OF FEBRUARY 2, 2009
Phyllis confesses her worst fears to Jack.
Colleen and JT begin a search.
Sharon and Nick get between the sheet.
"The Young and the Restless" airs Weekdays on CBS. Weeknights on SOAPnet. Check local listings .
---
You may not reproduce content without written permission from author.

© 2009 Soap Opera Network. All rights reserved.
Discussion: Y&R PreVUE: Week of January 26 Edition
---