Sunday, January 18, 2009 4:48 PM ET |
By Venus Stone
---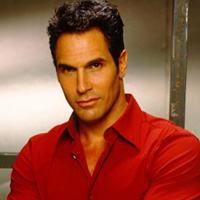 (SoapOperaNetwork.com) — Fair warnings…
THIS WEEK ON: THE YOUNG AND THE RESTLESS
Adam who is desperate to get out of the mess he is in, once again tries to plead his case to Victor. When Adam asks his father to be there for him and save him Victor refuses and opts to walk out of the young man's life. On Wednesday, January 21, Billy and Chloe are in for a rude awakening when a friend from New York comes into town with the possibiity of ruining their chances with Lily and Cane.
The Inside Story: Her Two Dads
Brad is thrilled to spend some quality time with Abby at Crimson Lights. As the two are bonding, however, Abby gets a call from Victor. As the two are ending their converesation, Brad's ego is bruised when he hears Abby ending her conversation with the word 'dad' in them. Furious that Victor is once again entering himself in the picture, Brad decides to confront Ashley on the matter. Ashley, who had been reluctant to Victor's request of Abby acknowledging him as her father, tells Brad that he has nothing to worry about, but also points out that Victor has been nothing but wonderful to Abby. Brad is not pleased to hear that Victor has a close bond with the young teen.
Things get worse for Brad when Victor demands that he step down from his position on the board of directors. Brad tells Victor he's not about to step down from the board and tries his best to shake it off before having another bonding moment with not only Abby but Colleen. As they are talking, Abby lets slip that Victor has gone to her parent/teacher conference. Brad once again hides his anger and ends their lunch date early. At the conference, Ashley points out to Victor that he doesn't need to attend the conference, but Victor insists that he wants to be a father in Abby's life. The moment Brad shows up, it's on. Brad and Victor have a heated exchange with one another, where Brad tells him that he will never take his place as Abby's father. Seeing the argument, Ashley quickly steps in and tells Victor that he has to realize how Brad is feeling about his presence. After things have cooled down for Brad, he decides to take matters into his own hands. He has another visit with Abby and he asks her if she would like to come live with him. Abby shoots him down saying that she's already staying with Victor at the ranch. Brad soon finds himself thinking of another option to keep Victor away: filing for full custody.
A Closer Look: True Identity
Determined to prove that she is who she says she is, Katherine and Amber work together on finding a way to show everyone that she is the 'real Katherine Chancellor'. Clint, who is in Genoa City spots the two of them together and immediately begins to keep tabs on them. Paul, who is also in the mix, approaches Daniel and Kevin with the request that they do whatever they can to help Kay. Determined to get Katherine's life back, Amber and Daniel concoct a scheme.
What To Watch
The CBS Daytime line-up is pre-empted on Tuesday, January 20 for President-elect Barack Obama's Inauguration.
Tyra gives Neil a liplock
Victor stuns Gloria with a visit and an offer
Phyllis and Sharon have a nasty face-off
The Young and the Restless News and Headlines
James Michael Gregary reprised his role as Clint, who back in 1989 was in cahoots with the kidnapping of Katherine. His first airdate was January 16
Azure Parsons appears as Crystal, a woman that is connected to the forged journal on Wednesday, January 21
Keith Pillow appears as Principal Kerns on Thursday, January 22
Shiva Rose appears as a friend from Chloe and Billy's past on Wednesday, January 21
Don Diamont's final air date as Brad Carlton (a role he's had since 1985) is slated for Thursday, February 5
Don Diamont (Brad) and Christian J LeBlanc (Michael) will join other daytime stars to set sail on Soap Cruise, The Second Voygage, Thursday, January 22 until Monday January 26. Those interested can go to Soap Cruise or call (248) 855-7918
Don Diamont (Brad), Christian J. LeBlanc (Michael), Daniel Goddard (Cane) and Michelle Stafford (Phyllis) will be participating with other soap stars in Soap Opera Mania–On Tour. The event will kick-off Saturday, February 7 in Macon, Georgia. Please visit Soap Opera Mania or call (866) 364-0330 to find out which city and state these stars will be appearing.
SON Top 10: Who was the best of the best on "Y&R" during the week of January 12 – 16, 2009?  You decide! The SON Top 10 is back! Voting begins Friday's at 4:00 PM, EST.
SON ALERTS: WEEK OF JANUARY 26, 2009
Nick and Phyllis's marriage continues to unravel.
Amber and Kevin put their heads together for Katherine's sake.
"The Young and the Restless" airs Weekdays on CBS. Weeknights on SOAPnet. Check local listings .
---
You may not reproduce content without written permission from author.

© 2009 Soap Opera Network. All rights reserved.
Discussion: Y&R PreVUE: Week of January 19 Edition
---