Friday, January 30, 2009 10:23 PM ET |
By Venus Stone
---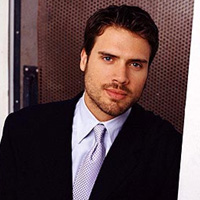 (SoapOperaNetwork.com) — Between the sheets…
THIS WEEK ON: THE YOUNG AND THE RESTLESS
Kevin and Amber continue their plans to help Katherine despite the possible dangers they could be putting themselves in on Thursday, February 5. Michael begins to question if he's a good parent or not, which leads to he and Eden into have a very good heart-to-heart talk with one another. Phyllis can't stand the fact that Nick still has concerns for Sharon.
The Inside Story: No Turning Back
Nick decides that he needs to inform Sharon about Noah's accident on the ice. Phyllis tries to convince him that he should stay home with Noah; even suggesting that she or Jack could drive up to the cabin to give Sharon the news. Unfortunately for Phyllis, Nick insists that it is his responsibility to give Sharon the news. Up at the cabin, Sharon is reflecting on her relationships with Nick, Brad and Jack. Sharon is reasonably calm when the electricity goes out and decides to sit down and write out a heart-felt letter to Nick. After she's through writing out her feelings about Nick, she decides to toss it on top of the pile of wood to burn later. Meanwhile, Nick has luck getting through the storm to head up to the Abbott cabin; unfortunately for Phyllis, who decides to go after her husband to make sure Sharon doesn't get closer to her ex, the police tells her she can't drive out due to the roads being closed. As Nick arrives at the cabin, Sharon is surprised to see him. He then fills her in about Noah's accident as she begins to panic. Nick reassures her that he is doing fine. When they decide that they should leave the cabin and head home, they are stopped by a park ranger who tells them that the storm is just too bad for them to go out. Realizing they have to let the storm pass, Nick and Sharon settle for the night. Deciding to keep the fire going, Nick grabs some firewood and discovers the letter. As he reads it, he realizes that Sharon still loves him and wants him back in her life. When Sharon sees him with the letter she quickly brushes it off; but Nick doesn't want to forget what he's read. Pulling her close to him Nick lays a seriously hot kiss on Sharon; one that leads them into the bedroom for some serious love-making.
A Closer Look: Without a Trace
Colleen fears that something has happened to her father when he doesn't call her in regards to their lunch date. When she tries to contact him and gets no response her worries get the better of her. Billy and Lily seeing that Colleen is upset do their best to try to keep her relaxed, however Colleen decides to take matters in her own hands and look for her father with some help. JT and Victoria, meanwhile are getting ready to celebrate their wedding anniversary when Colleen barges in telling them that she hasn't heard anything from her father. JT and Colleen begin their search when they discover that Brad left his cell phone in his car, which is abandoned. Back home, Lily, Billy, Ashley and Abby are checking Brad's messages and are floored when they hear Victor threatening Brad on what would happen if he didn't give up his board of directors position at Newman Enterprises. Heading over to find her father, Abby questions Victor on his actions unaware that Colleen has heard their conversation. Livid Colleen lashes out at him pointing out that it is no secret to anyone of his deep hatred for her father. Unbeknownst to everyone, Noah, who's still mending after his accident, recalls that Brad was the person that saved his life. Realizing that something in fact is seriously wrong, Victor decides to do what he can to help Brad's daughter in locating him. As time ticks away, JT begins to wonder if it's too late.
What To Watch
Billy wants a special Valentine's Day with Lily
Abby puts the blame on Eden
A pawnbroker could be a help or a stumbling block for Katherine
Someone returns home to misfortune
The Young and the Restless News and Headlines
Richard Wharton plays a pawnbroker on Thursday, February 5 that could either be a help or a hindrance in proving Katherine's identity
Beth Maitland reprises her role as Traci Abbott Carlton Connolly on February 6 when bad news comes regarding Brad
Scott Alan Smith plays Dr. Lancaster, who keeps an eye on Noah's condition, Monday, February 2
Ted Mattison plays a park ranger that keeps Nick and Sharon from heading out in the storm, Monday, February 2
Stacy Haiduk is slated to portray a possible love interest for Jack Abbott (Peter Bergman)
Don Diamont fans can bid farewell to Brad Carlton on Thursday, February 5, which will be the actor's final air date on the show
Eva Marcille, who plays Tyra on the show shows off her fashion sense in the current issue of Soap Opera Digest
Christian J. LeBlanc (Michael Baldwin) along with other hot daytime hunks will meet fans at the Soap Stars, Hunks of Daytime TV on Saturday, February 14 at the Silver Springs Nature Park, located at 5656 E. Silver Springs Boulevard, Silver Springs, FL. Those interested can visit Silver Springs or call call (352) 236-2121
Don Diamont (Brad) and Christian J. LeBlanc (Michael) will join other daytime stars to set sail on Soap Cruise, The Second Voygage, Thursday, January 22 until Monday January 26. Those interested can go to Soap Cruise or call (248) 855-7918
Don Diamont (Brad), Christian J. LeBlanc (Michael), Daniel Goddard (Cane) and Michelle Stafford (Phyllis) will be participating with other soap stars in Soap Opera Mania–On Tour. The event will kick-off Saturday, February 7 in Macon, Georgia. Please visit Soap Opera Mania or call (866) 364-0330 to find out which city and state these stars will be appearing.
SON Top 10: Who was the best of the best on "Y&R" during the week of January 26 – 30, 2009? You decide! The SON Top 10 is back! Voting begins Friday's at 4:00 PM, EST.
SON ALERTS: WEEK OF FEBRUARY 9, 2009
Sharon has an emotional breakdown.
Jill makes a startling decision, stunning everyone.
The judge grants Katherine's request.
"The Young and the Restless" airs Weekdays on CBS. Weeknights on SOAPnet. Check local listings .
---
You may not reproduce content without written permission from author.

© 2009 Soap Opera Network. All rights reserved.
Discussion: Y&R PreVUE: Week of February 2 Edition
---