Thursday, January 22, 2009 11:47 PM EST |
By Scotty Gore
---
(SoapOperaNetwork.com) – The family that stays together, hates together.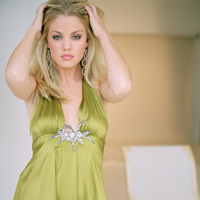 THIS WEEK ON: ONE LIFE TO LIVE
Matthew calls Cole a hypocrite.  Later Cole displays his childish behavior in front of Starr and Langston, despite his promise to Matthew.  Wes is attacked by a trouble Cole, who later has another meeting with Asher.  On Friday, January 30, Marcie and Michael remain in mourning after losing the Hope they once thought they had.
The Inside Story: Llanview's Most Wanted
Todd realizes the real reason for Lee's visit.  Circumstances beyond their control prompt Antonio and Talia to take action.  Tea insists that Todd has nothing to hide.  Todd reassures Tea that Lee and Dr. Joplin were the only ones wise to his hideous plan.  Schuyler reads the disturbing letter his mother left behind.  Nora is certain that Todd's actions could result in a life sentence.  Starr is torn between justice and her father.  Todd urges Tea not to attack Starr.  Instead, on Wednesday, January 28, Tea toys with Starr's emotions by telling the poor girl how her father spent his New Year's Eve. Meanwhile, Schuyler pays a visit to Starr and Blair.  Marty demands answers from Lee.  Todd's future rests in Starr's shaky hands as his trial is set to begin.  Todd and Tea's actions leave Lee spooked.  Nora's case is dealt a serious blow.  Wes confesses that Lee Halpern ruined his family.  Tea locates a suspicious looking Todd.    
A Closer Look: One Big Broken Family
On Tuesday, January 27, Jessica appears to be on the road to recovery.  Dr. Levin informs Viki that Jessica is in control.  Natalie confides in Rex, and grows more attached to her little niece.  Viki is reassured by Dr. Levin.  Natalie takes Chloe to St. Ann's to visit Jessica.  On Thursday, January 29, Jessica and Brody share an emotional farewell.  Bree chooses Natalie over her mother.  And Natalie hurls stinging accusations at Jessica concerning her family. 
What To Watch:
Dorian makes Moe a very rich man.  Meanwhile, a concerned Noelle ponders Delphina's recent vision.   Jared becomes wise to Dorian's scheme on Tuesday, January 27, and employs Rex to snoop around.  Dorian plots to scam David using a bogus charity.  Fortunately for David, Rex manages to thwart Dorian's plan, forcing her to go back to the drawing board.   
One Life to Live News and Headlines:
SON Top 10: Who was the best of the best on "OLTL" during the week of January 19 – 23, 2009? You decide! The SON Top 10 is back! Voting begins Friday's at 4:00 PM, EST.
SON ALERTS: WEEK OF FEBRUARY 2, 2009
Monday: Tea goes out on a limb to help Todd.  Cole confides in Markko.  Starr explains her actions to Langston.
Tuesday: Antonio and Talia grow suspicious of Tea.  Wes forces Marty to reevaluate her feelings.  Cole catches Matthew in the nick of time. 
Wednesday: Nora has a new trick up her sleeve.  Dorian does what she has to do in order to keep David in the dark.  Clint reaches a decision involving David.
Thursday: Todd refuses to allow Starr to pay for his actions.  Jessica and Natalie reach a stalemate.  Dorian is overconfident.  
Friday: Memories of Tess invade Jessica's mind.  Blair tells Marty to stay away from her man.  Does Wes have blood on his hands?
"One Life to Live" airs Weekdays on ABC. Weeknights on SOAPnet. Check local listings.
---