Friday, January 23, 2009 10:08 PM ET |
By Venus Stone
---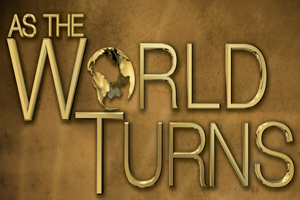 (SoapOperaNetwork.com) — Wedding jitters…
THIS WEEK ON: AS THE WORLD TURNS
Lily becomes upset when she sees that Holden still has an interest in Carly's well being when it comes to Craig being in her life. Meg and Dusty jet off to get her a quick divorce from Paul and to wed each other. Once they get back to Oakdale Meg tells Holden and Lily about their quick nuptials. Holden is angry that Meg rushed into such a thoughless move. Dusty in the meantime takes Eliza to visit Paul, who flips the minute Dusty tells him of his marriage to Meg. Jack and Janet realize that money issues are hindering them in providing for their family on Wednesday, January 28. Casey and Alison have some mis-communication with one another on Friday, January 30.

The Inside Story: There Goes the Bride

Wedding bells ring for Carly, who is less than thrilled about walking down the aisle with Craig. Tom and Margo, who are in attendence don't care for how Craig is doing things to get what he wants. Holden also voices his concerns to Carly about marrying Craig, telling her she shouldn't just settle for anyone in her life. Sage is still brooding over the fact that her parents aren't getting back together decides that she would rather live with Jack and Janet instead of with her mother. Katie wants to give her support to Craig by going to the wedding but when Brad objects to it she agrees to stay home. As the wedding gets underway, Carly begins to have doubts and soon voices to Craig and all that are there that she can't marry a man she doesn't love. Craig storms out and later is comforted by Lily and Margo. Later on, a drunk Craig goes to talk to Carly. He immediately blames her and tells her that she did it all to see how Holden and Jack would respond. Staggering off Craig goes to the Lakeview demanding Dusty give him his son. Meanwhile, Jack, Sage and Parker are all pleased that Carly did the right thing by saying no to Craig.
A Closer Look: Stirring Up Trouble
Emily contiues to try her best to keep Alison from getting closer to Casey. When Casey learns that Emily tried talking Alison out of wanting a relationship with him, he confronts her. Not phased by Casey's harsh words, Emily decides to go another route to keep Alison and him apart. When she discovers that Jade has been listening in on her conversation with Casey, Emily approaches the young woman. She tells her she will pay her to keep tabs on Casey and Alison and do whatever she can to keep Casey distracted and away from Alison.
What To Watch
Katie and Brad make baby plans
Dusty gets a helping hand
As the World Turns News and Headlines
Eric William Morris returns to Oakdale as Matt O' Conner, Casey's prison buddy February 2
Ewa da Cruz and Trent Dawson will be having a book signing for The Man fromo Oakdale Saturday, January 31 at 4:00 PM at Borders located at 1260 Old Country Road in Westbury, NY
Laurence Lau (Brian) will be starring in Breaking Legs from January 9 thru February 1 at the
Riverside Theater, located at 3250 Riverside Park Drive, Vero Beach, FL. Tickets are available at Riverside Theatre
Austin Peck (Brad) and other daytime stars are set to sail on Soap Cruise, The Second Voygage, Thursday, January 22 until Monday January 26. Those interested can go to Soap Cruise or call (248) 855-7918
Julie Pinson (Janet), Michael Park (Jack) and Austin Peck (Brad) will be participating in Soap Opera Mania–On Tour. The event will begin in Macon, Georgia February 7. Visit Soap Opera Mania or call (866) 364-0330
SON Top 10: Who was the best of the best on "ATWT" during the week of January 19 – 23, 2009? You decide! The SON Top 10 is back! Voting begins Friday's at 4:00 PM, EST.
SON ALERTS: WEEK OF FEBRUARY 2, 2009
Katie and Brad swap with Henry and Vienna.
Jade and Casey have something to hide.
Josie sees red regarding Meg.
"As the World Turns" airs Weekdays on CBS. Check local listings.
---
---
You may not reproduce content without written permission from author.

© 2009 Soap Opera Network. All rights reserved.
Discussion: ATWT PreVUE: Week of January 26 Edition
---