Wednesday, January 28, 2009 5:01 PM EST |
By Angela Rosa
---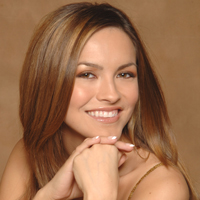 (SoapOperaNetwork.com) — Cause and effect.
THIS WEEK ON: ALL MY CHILDREN
On Monday, February 2, Pete nearly finds himself with skid marks when Adam jumps to the wrong conclusion. Ryan persuades Opal to help him ease Greenlee fears. Aidan is able to convince Dr. Sinclair that he wants Annie to pay for her crimes. Greenlee blames Erica for Fusion's financial crisis. The battle carries on through Thursday, February 5 when Pete fears theirs been a battlefield death. Rebecca tells Frankie the truth about her condition. Tad reveals to Ryan that Dr. Sinclair has gone to great lengths to cover something from her past.
The Inside Story: Behind These ***** Eyes
Mrs. Slater clearly is not as okay with Bianca's revelation as she pretends to be. Kendall immediately picks up on the fact that Erica questions Reese's feelings for Zach. On Wednesday, February 4, a thrilled Zach brings Kendall home where she shares a loving reunion with her sons. Kendall grows unsettled as she observes the dynamics of the situation around her. Bianca assures Reese that Kendall doesn't hate her. Alone, Zach tells Kendall how much he missed her and ached for her while she was comatose. Kendall's expression darkens when she sees the Christmas photo of Reese, Zach, Bianca and Gabrielle. Kendall can barely hide her animosity towards Reese. Zach explains to Kendall why he agreed to be Bianca and Reese's donor. Kendall tells Zach in no uncertain terms that she wants Reese and Bianca out of her home. Zach arranges for Reese, Bianca and the girls to move to the casino. Kendall learns, from Greenlee, that Erica wasn't alone too long ago in her suspicions.
A Closer Look: He's a Beautiful Disaster
Adam learns that Amanda is carrying JR's baby. Amanda is affected when Kathy explains to her that she just wants a mom to love her. Amanda tells JR that she's changed her mind and wants to raise her child. A thrilled JR bolsters Amanda's decision and tells her he wants to help her. Amanda is later crushed to learn that David is the father of her unborn child. Frankie offers to fudge the test results to make it look as though JR is the father. A fearful Amanda takes JR up on his offer to move into the mansion after a suspicious David threatens her. Amanda has her hands full with Adam and David on Friday, February 6.
David spots Kathy with JR and Amanda and proceeds to manipulate the situation to make Krystal come out as the hero on Tuesday, February 3. Tad maintains that David set up Kathy's disappearance in the first place. Tad and Krystal are filled with guilt when Kathy yells for them to just stop fighting. Tad expresses his gratitude to Krystal for finding Kathy by suggesting they share custody of Jenny. David tells Krystal that she can thank him for his efforts by agreeing to be his wife. Krystal turns David down. Jake, Jesse and Tad dig into David's bag of dirty tricks to put the doctor in his place and the results are immediate. Krystal covers for Tad. David tells Krystal that he can't lose her.
All My Children News and Headlines:
SON Top 10: Who was the best of the best on "AMC" during the week of January 26 – 30, 2009? You decide! The SON Top 10 is back! Voting begins Friday's at 4:00 PM, EST.
SON ALERTS: WEEK OF FEBRUARY 9, 2009
Monday: Aidan shares his suspicions about Sinclair with Ryan. Zach accuses Kendall of punishing him for fathering Gabrielle. Reese and Bianca aren't in a good place.
Tuesday: Sinclair pushes Annie to her breaking point. Krystal promises Tad she won't tell David what he did. Taylor wants Brot's undivided attention.
Wednesday: Annie's devastated when she thinks Aidan has betrayed her. Greenlee's miffed that Ryan and Aidan have been keeping her in the dark. Kendall agrees to attend Bianca and Reese's wedding on one condition.
Thursday: Erica makes mincemeat out of Reese at the wedding rehearsal. Reese can't deny her feelings for Zach. A menacing Annie spies on Greenlee.
Friday: Annie is out of control. Ryan is tempted to tell Bianca about Reese and Zach's kiss. Amanda is desperate to get David off her back.
"All My Children" airs Weekdays on ABC. Weeknights on SOAPnet. Check local listings.
---