Sunday, December 28, 2008 8:46 PM EST |
By Venus Stone
---
(SoapOperaNetwork.com) — Another New Year for those in Genoa City……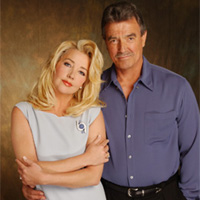 THIS WEEK ON: THE YOUNG AND THE RESTLESS
Katherine is caught red-handed by Jill as she's stepping foot into the Chancellor mansion. Jill immediately thinks she's Marge trying to pretend to be Katherine and calls the cops to have her arrested. Karen has doubts about marriage to Neil. An offer is given to Jill and she has a hard time resisting. Gloria and Jeffrey plan to scheme when Katherine is put in the jail with her.
What to Watch: Trouble Brewing
Jack gives Billy a serious warning. Yet another face-off between Jack and Victor occurs. Abby comes back home to the ones she loves. Amber keeps herself occupied with her thoughts as to whether Kevin is a cold-blooded murderer. Victor and Nikki find themselves sharing a close moment together. Phyllis won't stop her scheme in keeping her man. Brad, meanwhile, spends some New Year's Eve time with Sharon and a tender moment is shared between the two.
"Y&R" will be pre-empted on Thursday, January 1.
SON ALERTS: WEEK OF JANUARY 5, 2009
Cane tries to clean Billy's clock.
Jack's omission sends Sharon into filing some papers
Jill has Jack in her sights for destruction
Kevin's conscience starts playing with him
Billy and Lily get physical
---