Sunday, December 7, 2008 10:11 PM EST |
By Scotty Gore
---
(SoapOperaNetwork.com) — Those living in glass houses shouldn't throw stones.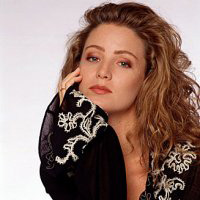 THIS WEEK ON: ONE LIFE TO LIVE
Viki gives Charlie a second chance; Tea vows to help Todd whether he likes it or not; Andrew presides over baby Hope's funeral; Marty and Cole grow closer; Vaness and Cristian lock lips; Lola seeks Langston's aide; Jessica apologizes to Brody; and Jack throws a tantrum.
The Inside Story: Second Chances
Natalie urges Viki to give Charlie a second chance. Afterward, Viki arrives at a decision and visits the Buenos Dias Cafe looking for Charlie. Excited, Charlie listens as Viki informs him that she never stopped loving him. As the snow begins to fall in Angel Square, Viki and Charlie share a kiss as they drive off into the night together. Sarah seeks Viki's advice on her relationship with Cristian. Brody is a complete gentleman when Jessica apolgizies for Tess making a pass at him. Several Llanview citizens gather to watch the movie "Christina Comes Home for Christmas." John and Blair watch the movie in bed. Sarah, Cristian, and Vanessa watch the flick as well, as do Brody and Jessica.
A Closer Look: Unsolited Advice
Todd is taken aback when Tea visits him in jail. As they reminisce about the past, Tea is rocked to learn that Todd truly did fall for Marty. Taking the high road, Todd turns down Tea's offer to represent him, claiming that he is ready to pay for his actions. John surprises Blair by claiming he still wants to be with her and then kissing her. Dorian and Starr are horrified to learn of Dr. Joplin's suicide. Cole and Starr continue to bond. Marty goes online to research Todd as she begins her quest for revenge. Starr's friends and loved ones gather for baby Hope's funeral. Hoping for time alone, Starr arrives at St. James early, where she encounters Andrew. A heartbroken Cole understands Marty's decision to skip the funeral. Andrew officiates the baby's funeral. Cole gives Marty the copy of "Jabberwocky" she gave him as a child; later he is pleasantly surprised when Marty drops by the cemetery and holds his hand. Nora urges Todd to enter a guilty plea, and is sickened when Todd once more confesses his love for Marty. Upon leaving the cemetery, Marty bumps in to Andrew at St. James. Jessica confesses to Brody that she feels as if her own daughter died, and says a prayer for baby Hope. Blair is beyond angry at Todd and deals with a fussy Jack. Marty is out for blood. John gives Cole a shoulder to lean on. Carlotta and Antonio are overjoyed to see Tea. Antonio is appalled that Tea wants to defend Todd. Todd is stuck between a rock and a hard place when Blair and Jack come to visit. John and Cole keep Marty away from the reporters at Todd's arraignment. Nora presents a laundry list of charges against Todd, who nearly utters his plea when Tea arrives at the courthouse. Starr and Dorian have a long talk before leaving for Todd's hearing.
What to Watch
Vanessa quickly apologizes to Cristian for kissing him.
Natalie and Jared have their hands full with Bree and Chole.
Rex, Gigi, and Shane mail Christmas cards with a family photo.
Rex and Shane make a special card for Brody.
Rex and Gigi make love.
Sarah makes her hatred of Vanessa known.
Lola asks Langston to hide her to avoid deportation.
Tea explains that Vanessa couldn't be deported if she married an American citizen.
Crisitan has a proposal for Vanessa.
SON ALERTS: WEEK OF December 15, 2008
Monday: Tea causes a ruckus in the courtroom; Brody accidentally prompts Tess to re-emerge; Rex has money problems. Tuesday: Tea is a thorn in Nora's side; Tess attempts to talk Brody into doing her dirty work; Cristian makes a shocking announcement. Wednesday: Brody outsmarts Tess; Tea is on a mission; Bo brings some Christmas spirit to Angel Square. Thursday: Marty and Tea go head to head; John's interest in Marty has Blair's attention; Moe prompts Dorian to do some soul searching. Friday: Tea goes after Marty on the witness stand; Cole makes a threat on Todd's life; Sarah confronts Cristian.
---