Wednesday, December 17, 2008 5:00 PM EST |
By Scotty Gore
---
(SoapOperaNetwork.com) — There's no place like home for the holidays.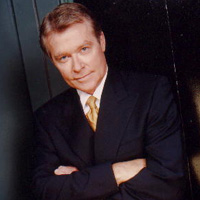 THIS WEEK ON: ONE LIFE TO LIVE
Bess and Tess battle for control; Brody makes progress; Starr rips in to her father on the witness stand; Todd's life falls in around him; Roxy almost ruins a surprise; Viki and Clint decorate the Llanfair Christmas tree; Jared asks Clint for his blessing; Tea has a gift for Todd; Carlotta bites her tongue; Dorian has another spiritual visit; Rex confesses to Gigi; Dorian does a good deed, and David Vickers returns to Llanview.
Encore Presentation
On Christmas Eve, ABC will air a special re-broadcast of the September 29th, 2008 episode of "
OLTL
." The episode will feature Brody reliving the trauma he endured in Iraq, while on top of Llantano Mountain with Shane; Addie visiting a jailed Dorian; Langston, Markko, and Starr formulating a plan to prevent Ray from returning to Columbia with Langston; Cole accusing Clint of being in cahoots with Ray; and Michael and Marcie struggling to set aside their differences as Marcie prepares for the birth of baby Hope. On Christmas Day, "OLTL" will be pre-empted. Merry Christmas!
The Inside Story: Love Is In The Air
Tess orders Bess to confess about the baby. Urging her to let it go, Bess insists Tess allow Jessica to re-emerge. Viki informs Clint that Jessica's recovery has hit a roadblock. Worried about their daughter, Viki and Clint hang a special ornament for Chloe on the Llanfair Christmas tree. Natalie talks openly with Viki about her feelings for Jared. Meanwhile, Jared asks Clint for his daughter's hand in marriage. After giving the young man his blessing, Clint offers Jared a job with Buchanan Enterprises. Viki is ecstatic to learn that Jared is planning to pop the question to Natalie. Roxy nearly upsets Jared's surprise proposal to Natalie. However, after getting rid of Roxy, Jared asks Natalie to be his wife.
A Closer Look: You Can't Lose What You Never Had
Tea takes on John and Marty on the witness stand. At the same time, Starr persuades Cole against the idea of buying a gun and murdering Todd. Later, following the judge's ruling, Starr makes a shocking announcement. The judge allows Starr to take the witness stand, much to Tea's dismay. Marty is destroyed by the court proceedings. Afterward, Tea pays Todd's bail and drops him off at home. After leaving, Todd is left alone in Marty's old bedroom. As he mourns his life with Marty, Todd breaks down. Meanwhile, a happy Marty exchanges Christmas gifts with Nora and Cole. Tea gives Todd a conch shell and advises him not to lose hope in the future. Later, Todd has an unexpected visitor.
What to Watch
Brody opens up to Dr. Levin in therapy.
Gigi learns of Rex's financial troubles.
Bo reminds Rex of the true meaning of Christmas.
Angel Mel pays Dorian another visit.
Dorian surprises Rex with a ZBox for Shane.
Cristian and Vanessa have an awkward wedding reception.
Carlotta can hardly hold her displeasure.
Tea has plans of her own.
David Vickers returns to Llanview a new man.
SON ALERTS: WEEK OF December 29, 2008
Monday: Marty enacts her revenge against Todd; Beaver Calhoun has unsettling news for the Buchanan's concerning Asa's will; David reveals a secret about Dorian to Viki and Charlie. Tuesday: Puddle of Mudd assists Llanview in rocking in the New Year; Todd prays for a second chance with Marty; John invests in a new business venture; Ray has an ally in Llanview. Wednesday: Encore of 10/01/08 episode — Rex plays "So You Think You Can Be Shane Morasco's Father" while fighting for life; Rex's loved ones gather at the hospital; Tess intends for Natalie to suffer. Thursday: Pre-empted — Happy New Year! Friday: Marty turns the tables on Todd; Cole and John are taken aback by Marty's behavior; Dorian has a run-in with Alex Olanov; David apologizes to Addie.
---