Wednesday, December 31, 2008 4:21 PM EST |
By Errol Lewis
---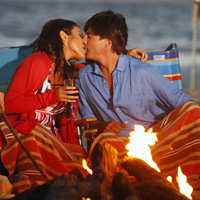 (SoapOperaNetwork.com) — Secrets are hard to keep.
THIS WEEK ON: DAYS OF OUR LIVES

After asking the woman he loves and the mother of his "unborn" child to marry him at the beginning of the New Year, would EJ really want her to find out what he's been up to soon afterward? Nicole finds pre-nuptial agreement paperwork that suddenly falls out of EJ's briefcase. Care to explain Mr. Wells?
Hope works her magic on Bo and convinces him to take a romantic break with her. It will be well worth it Brady. Lexie and Abe learn that Theo must undergo surgery in order to relieve pressure on his brain. Max offers himself as Chelsea's date to the engagement party.
A Closer Look: Lucas the Protector
It's bad enough that Daniel is with his mother, but does he have to sniff around Chloe too? Lucas is about to find out as the two duke it out. Of course, Lucas throws the first punch on Thursday, January 8. Kate tells Daniel that she thinks they should take a break from their relationship.
What To Watch
John remembers seeing Marlena on a pier many years ago on Friday, January 9 .
Days of our Lives News and Headlines
SON Top 10: Who was the best of the best on "DAYS" during the week of December 29, 2008 – January 2, 2009?  You decide! The SON Top 10 is back starting Friday, January 2, 2009 at 4:00 PM, EST.
SON ALERTS: WEEK OF JANUARY 12, 2009
Nicole's plan moves forward.
Phillip tries to fight his attraction to Stephanie.
Chloe and Daniel get intimate.
Brady is on to John.
"Days of our Lives" airs Weekdays on NBC. Weeknights on SOAPnet. Check local listings.
---
Discussion: DAYS PreVUE: Week of January 5 Edition
---