Wednesday, December 31, 2008 8:15 PM EST |
By Errol Lewis
---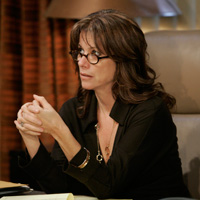 (SoapOperaNetwork.com) — After two straight weeks of repeats and interruptions, "General Hospital" is back in full swing with lots of drama heading your way.
THIS WEEK ON: GENERAL HOSPITAL
Jax and Carly come to a mutual understanding. Nadine makes it clear that she wants nothing to do with Equinox and its dealings with manufactured weapons. In honor of Ruby's memory, Luke and Bobbie discuss rebuilding Kelly's. Sam is unsettled when she witnesses how close Lucky and Elizabeth are getting. Robin feels the stress of motherhood. Patrick informs Sonny that Michael's condition could be permanent. Sonny and Carly come to an understanding and work on re-building their relationship. Diane suggests that Alexis and she work on bringing Jax and Carly back together, instead of tearing them apart through a divorce. Johnny is arrested, and Ric offers help from Anthony. A surprising individual bails Johnny out.
The Inside Story: Claudia and Her DVD's
Claudia has her hands on the latest Jerry Jacks DVD, but unfortunately for her Sonny is too close for comfort. Claudia tries to distract Sonny and hide the DVD before he grows suspicious on Monday, January 5. Carly catches Claudia in the act.  Carly gives Claudia a stern warning. Claudia is surprised by Sonny's generosity and latest actions. Johnny learns of what Jerry's been up to in the afterlife. Lulu grows suspicious of Johnny and Claudia.
A Closer Look: When Spinelli Met Winifred
On Friday, January 2, Spinelli met Winifred (played by Senta Moses), his "female counterpart." On Monday, January 5, Maxie grows suspicious of Winifred, but is quickly calmed down by Spinelli's words. Unfortunately, being the Maxie we all know and love, that won't stop her from snooping. Winifred threatens Maxie, while Spinelli can't side with Maxie this time. Thinking she is saving him, Maxie goes to great lengths (think bedroom) in changing his mind.
What To Watch
Nikolas and Nadine seek Alexis' advice on Tuesday, January 6.
Carly and Jax have a date on Wednesday, January 7.
Jax flirts with Olivia on Thursday, January 8.
The FBI is closing in on Spinelli and Jason retaliates against Sonny on Friday, January 9.
General Hospital News and Headlines
SON ALERTS: WEEK OF JANUARY 12, 2009
Monday: Claudia is fine with the way things are. Carly and Jax take baby steps to a reconciliation. Nikolas and Nadine take on the government. (What? )
Tuesday: Agent Rayner offers Jason a deal. Claudia pressures Sonny into offing Jason. Jax and Carly share a romantic evening.
Wednesday: Jason gets in too deep with the Feds. Kate spies on Claudia. Lucky and Sam are at odds.
Thursday: Sonny questions Jason's morality. Claudia continues her search for the most incriminating DVD. Maxie puts Spinelli's mind at ease. Natalia Livingston re-joins the cast as Rebecca, a mystery woman that plays mind games with Nikolas.
Friday: Jason and Sonny put their cards on the table. Ric is suspicious of Claudia. "General Hospital" kicks off a major groundbreaking storyline as Patrick recalls the events before disaster struck.
"General Hospital" airs Weekdays on ABC. Weeknights on SOAPnet. Check local listings.
---