Monday, November 17, 2008 9:40 AM |
By Scotty Gore
---
(SoapOperaNetwork.com) — One day at a time.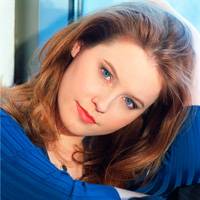 THIS WEEK ON: ONE LIFE TO LIVE
Natalie reunites with loved ones, Tess makes a shocking claim, Todd dreams of a future that will never be, Bess and Jess chat, Charlie is advised by Roxy, John outsmarts Mayor Lowell,
Nora is disgusted by Todd's tryst with Marty, Starr is confronted with her father's plans for her baby, and Dorian places Dr. Joplin on the hot seat.
The Inside Story: That's Not My Baby!
Natalie has an emotional reunion with Rex and Roxy. Clint informs Jessica of exactly what Tess did to Natalie and Jared. Feeling remorseful, Jessica asks Natalie and Jared to come see her.
Jessica is unsure how they can forgive her when she isn't able to forgive them. Meanwhile, in Jessica's conscience, Tess begs Bess to let her out to make sure the baby is okay. With reservations, Bess decides to allow Tess to return. With Tess briefly in control once more, Jessica retreats further into her mind, where she meets Bess for the first time. Meanwhile, Tess forges a deal with Viki, which allows her to see the baby. However, Tess quickly becomes hysterical and claims it is not the baby she gave birth to. Afterward, Jessica returns and shares some terrifying news with Viki. Charlie takes Roxy's advice. Jessica and Viki dismiss Tess' claims about the baby. Viki is grateful to have Charlie to lean on. Jessica understands she needs professional help.
A Closer Look: Broken Hearts, Broken Dreams
Blair and Nora are shocked by the news that Marty is alive, and staying at Todd's of her own free will. Furthermore, Blair is absolutely disgusted to learn that Todd and Marty slept together and that he planned to raise Starr's baby. Meanwhile, Cole is floored to see a clueless Marty at the hosptial. Nora advises Cole against seeking his own justice against Todd. Badly roughed up, Todd contemplates what might have been with Marty. Nora is petrified to learn that Marty and Todd had unprotected sex. Cole confronts Todd over his latest actions, and informs him that Starr's baby passed away. Afterward, Blair lashes out at Todd. Meanwhile, Marty ingests the "morning after" pill to make absolutely certain that there will be no lasting ramifications of her one night stand with Todd.
As a despondent Marty prepares to leave with Nora and Cole, she bumps into Todd, whom she angrily confronts. Nora shakes her head as Todd tries to explain himself. Marty marches off as Todd proclaims his love for her. Starr learns of her daddy's plan for her baby. Langston comforts Starr as Michael comforts Marcie. Dorian asks a nervous Dr. Joplin why there is no record of Starr's baby being in the NICU. John surprises Mayor Lowell, and is proclaimed a hero by the press. Cole uses old family photos in an attempt to help Marty jog her memory. Blair declares that her feud with Marty is a thing of the past. John is tired of playing by Mayor Lowell's rules and resigns from the LPD. Bo is dismayed by John's decision. Dorian questions what Marty's return will mean for John and Blair's relationship. Blair, meanwhile, stops by the police station, only to find John gone. Cole upsets Marty. And Todd is haunted by what he has done.
What to Watch
Brody informs Wes that he will likely spend a long time in prison.
Wes pays Rex and Gigi a visit.
Wes asks Rex to take action to prevent Brody from going to prison.
SON ALERTS: WEEK OF November 24, 2008
Monday: Marty realizes just how much she has lost; Rex comes to Brody's aid; Antonio, Talia, and Jamie spend some quality time together. Tuesday: Jessica leaves for St. Ann's; Tina makes a difficult decision; Sarah finds Vanessa in Cristian's arms. Wednesday: Jessica and Brody bump into each other at St. Ann's; Viki rails against Victor Lord's painful legacy; Charlie has a surprise for Viki; Rex and Shane bond.. Thursday: Encore of 09/22/08 episode–Brody refuses to give up Shane; Natalie is under an unsuspecting Jared's nose; Marty reassures Todd of her feelings. Friday: Pre-empted.
---