Tuesday, November 18, 2008 12:20 PM EST |
By Angela Rosa
---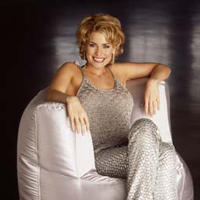 (SoapOperaNetwork.com) — Who's coming? Who's staying? Who's going?
Who's Coming?
McKenzie Westmore has joined the cast of "All My Children." The 31-year old actress is best known for her role on the cancelled daytime drama "Passions." Westmore played Sheridan Crane, one half of "Passions" first super couple, Sheridan and Luis (Galen Gering), from the drama's inception in 1999 until it's cancellation in 2008. On the change of venue from the very fanciful "Passions" to the more serious "AMC, the actress chuckles, "no witches or demons this time around … but I will be with Annie." Westmore will be playing crazy Annie Lavery's (Melissa Claire Egan) psychiatrist, Dr. Sinclair, in Pine Valley's famed mental institution Oak Haven. In the latest edition of Soap Opera Digest, a delighted Westmore reports that she was planning to come to the City for the holidays but then things fell into place and it turned into a "working vacation." Although the role is just recurring (through March 2009), Dr. Sinclair is slated for romance – likely in the form of either Aidan Devane (Aiden Turner) or Ryan Lavery (Cameron Mathison). Westmore begins airing on Friday, December 12.
Frunk Runyeon premieres in the recurring role of Forrest William's, the disapproving father of Bianca's (Eden Riegel) fiancé Reese (Tamara Braun), on Monday, December 15.
Who's Staying?
Following reportedly rough negotiations, Michael E. Knight has re-signed with "AMC." The recipient of three Daytime Emmy's joined the cast of the ABC soap as the charming cad Thaddeus "Tad" Martin in 1982. Knight departed in 1986 but would return in 1988 when he would become one half of one of "AMC's" most notable super couples ever, Tad and Dixie (Cady McClain). The actor departed again in 1990 but with much fanfare would return to the soap for keeps in 1992.
Knight's co-star Walt Willey has also re-signed with the show. Willey has been on the cast of "AMC" as legal eagle, and on-again, off-again paramour of Erica Kane (Susan Lucci), Jackson Montgomery since 1987.
As previously reported, Alicia Minshew (who plays the popular Kendall Hart Slater) has also re-signed with the ABC soap. The actress, who married long-time boyfriend Richie Herschenfeld late last month, is currently enjoying a long vacation.
Who's Going?
Rebecca Budig has confirmed that she will not take up her option to stay on "AMC" for an additional year. The actress joined the cast of the soap in 1999 as Greenlee Smythe. Budig would take her leave from the show in 2005 to try prime-time but returned during the 2007 writer's strike. Budig will air until early spring 2009; there are no plans to recast the character.
"All My Children" airs Weekdays on ABC. Weeknights on SOAPnet. Check local listings.
---
All My Children
Rebecca Budig
Alicia Minshew
Michael E. Knight
Frank Runyeon
McKenzie Westmore
Walt Willey