Monday, October 6, 2008 12:46 AM |
By Scotty Gore
---
(SoapOperaNetwork.com) — You can't judge a book by its cover.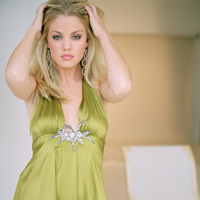 THIS WEEK ON: ONE LIFE TO LIVE
Dorian and Clint have a showdown over Langston, Vanessa paints a very different picture of Ray Montez, Dorian takes matters into her own hands, Jared realizes that looks can be deceiving, Adriana stands her ground, Rex hovers near death, two returns catch Tina off-guard, and a rapist asks his victim to become his bride.
The Inside Story: Everything Is Not What It Seems

Clint plays God by giving Dorian an ultimatum–either give up BE or lose Langston for good. Meanwhile, Langston works to sway Ray's decision by showing him how happy she is at school and with her friends. In Columbia, Vanessa confesses to Cristian that Ray wants to murder her and her stepdaughter Lola, because the pair testified against him in the murder trial of his first wife, Lola's mother. Vanessa begs Cristian to take them back to Llanview with him because she believes that is the last place Ray would think to look. Ray's background unnerves Nora, and later she, Antonio, and Talia decide to pay him a little visit. Dorian hires Jackie McNaughton to "take care" of Ray. Meanwhile, Clint fumes when Nora hauls Ray in for questioning. Nora, Antonio, and Talia conclude that Ray doesn't even know who Cristian is. In Columbia, a terrible storm delays Cristian's return to Llanview. Starr, Langston, Cole, and Markko try to stay positive.
A Closer Look: Those Who Forget The Past Are Doomed To Repeat It

Todd dodges a bullet when Marty decides to drop her quest of revisiting her rape. In fact, she makes the decision to live for the future, instead of in the past. When Todd takes her for a drive, Marty feels free and alive. Meanwhile, John begins to suspect that Marty may indeed still be alive. Later, Todd and Marty contemplate the future, and discuss the best place to live once Starr's baby is born. Marty is bugged by the fact that Todd still wears his wedding ring; despite the fact he claims to be over Blair. Michael becomes John's sounding board when the cop reveals his suspicions about Marty. At the same time, Addie encourages Blair to listen to her heart. Soon afterward, John assures Blair that the feelings are mutual. Before making love, John confesses to Blair that he is working on personal case, all the while neglecting to mention that it involves Marty Saybrooke. Todd throws out his wedding band after receiving encouragement from Marty. Later Todd proposes to Marty, who quizzes Todd on his motives. Todd responds by confessing that talking about his feelings doesn't come easy to him. John gets a break in the case. Blair is ok with John's obsession with his first love, being a cop, and looks forward to her next rendezvous with him.
What to Watch
Jared talks with Bo about Jessica.
Tess forces Natalie to write "Jessica" a letter.
After reading the letter, Jared realizes Tess has returned.
Roxy inadvertently adds to Tina's guilt.
Adriana has second thoughts about her decision.
Jared keeps up his charade in front of Tess.
Contractor Leo gives Jared an earful.
Marcie fails to convince Adriana to change her mind.
Brody is subdued after attacking a cop.
Roxy butts heads with Adriana.
Charlie comforts Gigi.
Tina visits the secret room, and later takes action fighting with Tess.
Natalie prays that Jared will uncover the truth.
Tina receives an unexpected visitor.
Bo, Adriana, Roxy, and Layla receive grim news concerning Rex's prognosis.
Roxy blames Rex's condition on Adriana.
Gigi remembers a happier time with Rex.
Gigi watches as Brody loses all sense of reality.
SON ALERTS: WEEK OF October 13, 2008
Monday: Viki's return could spell trouble for Tess; Cain Rogan confronts Tina at Llanfair; John threatens to expose Janet's true identity and two decades old connection to Llanview.
Tuesday: Dr. Joplin implores Todd to listen to his conscience; Tess has Jared and Natalie right where she wants them; Tina and Tess work to keep Viki out of the loop.
Wednesday: Gigi hatches a plan to see Rex; Dorian isn't afraid to get her hands dirty; Cristian manages to contact Sarah.
Thursday: Tess decides to get out of dodge; Bo shares his concern about "Jessica" with Viki; Gigi gets her revenge on Adriana; Cain kidnaps doggie David Vickers.
Friday: Dorian sees the error of her ways, but is it too late?; Clint has second thoughts; and all hell breaks loose at the Llanview Airport.
---