Thursday, October 16, 2008 8:23 PM |
By Scotty Gore
---
(SoapOperaNetwork.com) — The power of love.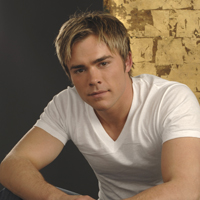 THIS WEEK ON: ONE LIFE TO LIVE
Doggie David Vickers is held for ransom, Tess gains the upper hand on Todd, Tina plays with dynamite, love brings Gigi and Rex back together, Adriana has a change of heart,
Marty has visions of the past, Ray is wounded, and Janet confronts her boss.
The Inside Story: Love Will Keep Us Together

Marcie and Gigi ask Michael where Adriana had Rex moved to. Without violating his Hippocratic oath, Michael manages to give them clues as to Rex's whereabouts. Marcie devises a way for Gigi to see Rex. Gigi, thanks to help from Marcie and Roxy, poses as a nurse, and sneaks into La Boulaie. Meanwhile, Marcie works to distract Adriana. However, Gigi is stuck between a rock and a hard place when confronted by Shaun. Managing to talk herself out of trouble, Gigi makes her way inside as Adriana descends the staircase. Michael covers for Gigi while talking to Adriana. After making her way to his room, Gigi pleads for Rex to wake up.
Meanwhile, Brody is horrified to learn the extent of his actions. While paying his old Navy SEAL buddy a visit, Wes informs Brody that Rex is in rough shape. Matthew talks to Shane about what it was like to learn that Bo, and not Sam, was his biological father. Love proves strong medicine when the sound of Gigi's voice brings Rex back to life. At the same time, Adriana overhears the lovebirds profess their love for one another. Later both Rex and Gigi are shocked by Adriana's sudden change of heart.
A Closer Look: Dy-no-mite!

Janet decides to take action, and confronts Todd with what she learned about him from John. Afterward, Tess pays Uncle Todd a visit, ordering him provide her and Bree with a place to hide out. Tess gains leverage over Todd when she stumbles upon Todd's intentions for Starr's baby. Meanwhile, Marty has a vision of the past while reciting a verse of poetry to Bree. As Starr and Cole work toward rebuilding their friendship, he tells her of a poem that Marty would recite to him every night as a child. Later, Marty has a memory of reading the poem to a young boy, but is unable to remember whom he was. Across town, Tina receives a ransom note from Cain, claiming that he will kill doggie David Vickers if she doesn't hand over the Mendorran Crown Jewels. After putting on her thinking cap, Tina goes to see Todd. At the same time, Bo and Viki contemplate on what to do with Tess once they track her down. Later, Viki and Charlie bump into one another. Todd has no time for Tina when she asks his advice on how to crack a safe. Jared and Natalie daydream that they are back at the Buchanan Ranch. Bo alerts John to Tess' return, and the fact that she may be responsible for Jared and Natalie's disappearance. Viki and Charlie worry about the harm Tess may inflict on Natalie and Jared. Tess eavesdrops when Todd asks Janet for help. Tess, realizing she'll need money to support Bree, decides to steal the jewels for herself. However, she arrives at Llanfair just as Tina is attempting to blast open the safe with dynamite. After managing to stop Tina, Tess takes off with both the jewels and the dynamite. Cole seeks John's help with a website marking the one year anniversary of Marty's "death." Todd downplays his guilt as Marty ponders if she's ever given birth to a child of her own. Viki, Charlie, and Roxy pray for the safety of their children.
What to Watch
Vanessa is arrested for shooting Ray.
Cristian defends Vanessa to Antonio and agrees to care for Lola.
Ray's condition gives Langston more time in Llanview.
John holds Dorian in a cell overnight after questioning her about Jackie McNaughton.
Langston meets her cousin Lola.
Antonio has his doubts about Vanessa.
Lola tells Langston that she hopes Ray dies.
SON ALERTS: WEEK OF October 27, 2008
Monday: Nora presents Dorian with a deal too good to pass up; Langston has a few choice words for Clint; Ray tosses accusations at Vanessa.
Tuesday: Tess places her latest scheme in motion; Jared and Natalie become desperate; Rex and Gigi realize they are now free to be together.
Wednesday: John receives help in his quest to uncover the truth; Viki catches Todd in a lie about Tess; Langston is vocal in her support of Starr.
Thursday: Tess has explosive plans for Jared and Natalie; Viki refuses to leave Todd's home until Tess returns; John is one step closer to the truth.
Friday: Tess doesn't let physical pain stop her from getting revenge; Marty can't shake a mental picture of baby Cole; Tina returns to her old ways.
---