Saturday, November 1, 2008 12:06 AM |
By Scotty Gore
---
(SoapOperaNetwork.com) — Two's company, three's a crowd.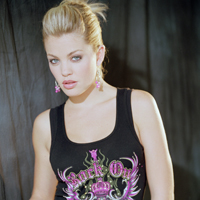 THIS WEEK ON: ONE LIFE TO LIVE
A whole new side to Jessica's personality is revealed; three mothers give birth, only two of them human; John uncovers the truth, only to be hit with a new obstacle; Todd and Marty get physical; Rex and Shane bond; and Ray's claims fall on deaf ears.
The Inside Story: The End Is Near

Tess, while pretending to be Jessica, presents Charlie with a plausible explanation for recent events. However, as he heads for the stairs to inform Viki of her arrival, Tess knocks him unconscious. Suffering from severe abdominal pain and not realizing that Bree is with Viki, Tess makes her way toward Nash's old cottage. Across town, Tina begs Cain to give doggie David Vickers back to her. Upon arriving at the cottage, Tess is "visited" by Niki Smith who urges her to drop her quest for revenge and rescue Natalie and Jared. Having a change of heart, Tess takes Niki's hand. Jared and Natalie make love for what they fear may be the last time. Viki and Clint overwrought with concern for Jessica and Natalie. Tina summons the courage to stand up to Cain, and is determined to save Natalie and Jared before it is too late. Later, Tina receives a shock when doggie David Vickers goes into labor. Meanwhile, Tess is overtaken with more abdominal pains before she can leave the cottage to save Natalie and Jared. Tess gives birth all alone, with only a vision of Niki Smith to help her through. Back at Llanfair, Viki is "visited" by Jean Randolph who helps Viki realize what Tess has done with Jared and Natalie. Cain and Tina get physical after doggie David Vickers becomes a mother. Back at the cottage, Jessica's newest alter, Bess, takes command. After she and Cain make love, Tina heads for Llanfair to make things right. Viki, Charlie, and Tina arrive at the secret room just as time is running out for Natalie and Jared.
A Closer Look: The Truth Doesn't Always Set You Free

John is successful in getting the truth out of Keys, after tracking Todd's former bodyguard down in Mexico. Meanwhile, Todd shows Marty a picture of Starr and Cole, but leaves out the fact that Cole is her son. At the same time, Starr and Cole continue to bond, as he escorts her to the emergency room, where Blair and Marcie soon join them. Shortly thereafter, Dr. Joplin phones Todd with the news, and urges him one last time to abandon his scheme. Refusing to back down, however, Todd orders Janet to go the hospital to assist in the delivery of Starr's baby. Unfortunately, Todd gets a conscience when Starr surprises him with a phone call. Meanwhile, Marty is eager to start her new life with Todd, and discovers that he has bought them a new home in Taos, New Mexico. As John gets Marty's name out of Keys, she surprises Todd by wearing one of the new outfits he bought her. John is held in contempt of court when the judge refuses to grant him a search warrant. Feeling extreme guilt and remorse, Todd confesses to Marty that she would be smart to run away from him and never return. Instead, Marty tells Todd that she's fallen in love with him and asks him to deny that the feelings are not mutual. Meanwhile, John plots his escape and plans to "rescue" Marty. As Starr is giving birth, Dr. Joplin prays Todd will have a change of heart. At that same moment, Todd and Marty's relationship moves to the next level. Marcie is taken aback by the change she sees in Todd, and quickly tips off Blair and Starr of his arrival at the hospital. Marty writes down her feelings for Todd in her journal. John moves heaven and earth to get to Marty.
What to Watch
Rex pays Brody a visit, as to Gigi and Shane.
Rex makes progress with Shane.
Gigi thanks Brody for everything, promising not abandon him in his hour of need.
Brody pushes Shane toward Rex.
Ray paints Vanessa as a compulsive liar to Antonio and Talia.
Ray's claims are disregarded as he is escorted back to the Columbian prison.
Vanessa is released into Cristian's custody.
SON ALERTS: WEEK OF November 10, 2008
Monday: Marty doesn't give John quite the reception he was hoping for; Bess throws a wrench in Todd's change of heart plan; Charlie and Viki work desperately to free Natalie and Jared.
Tuesday: Starr and Marcie receive devastating news; John is appalled by the web of lies Todd fed Marty; Viki and Clint find their daughter; Bess takes matters into her own hands.
Wednesday: Jessica finally returns; Starr, Cole, Michael and Marcie grieve for the baby they think is dead; Tina rebuffs Cain and is confronted by Natalie and Jared.
Thursday: Marty realizes Todd lied to her; John beats Todd to a pulp; Jessica fears Tess may return; Natalie gives Tina an ultimatum.
Friday: Natalie and Jard enjoy their newfound freedom; Viki orders Tina out of her life; Bo worries John may have snapped; Cole and Marty could be on a collision course at the hospital.
---