Tuesday, August 26, 2008 7:24 AM ET |
By Errol Lewis
---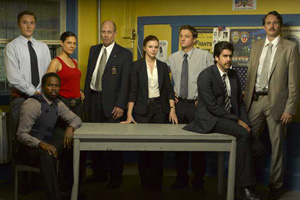 (SoapOperaNetwork.com) — The little girl that grew up on ABC's "General Hospital" is not so little after all. In fact, she's the toughest thing to hit ABC since "NYPD Blue." Nathan Fillion ("One Life to Live") is also jumping onto the police beat.
Amber Tamblyn, 25, who portrayed Emily Bowen-Quartermaine on "GH" from 1995-2001, has found herself with an "Unusual" dramedy that the ABC Entertainment Division (that is primetime tv for us daytime folk) thinks is the next great procedural. The network has given a mid-season order to "The Unusuals," which stars Tamblyn as Casey Shraeger, an NYPD vice detective posing as a Lincoln Tunnel hooker before being transferred to the homicide division. Casey quickly realizes that not only does everyone in her new department have a distinct sense of humor but everyone also has their own dirty little secret.
The series also stars Jeremy Renner, Terry Kinney, Kai Lennox, Adam Goldberg, Monique Gabriela Curnen, Joshua Close and Harrold Perrineau.
After leaving "General Hospital," Tamblyn got a starring role in the short-lived CBS drama "Joan of Arcadia," in which her character talked to god.
ABC has also given the go-ahead to Nathan Fillion's "Castle," in which he plays Nick Castle. Nick is a handsome writer who seems to have it all – fame, fans, and females at his fingertips. When Nick kills off his premiere character in his popular book series, a "real-life" copycat killer starts taking scenarios from the books and staging murders in the "real world."
Molly Quinn, Ruben Santiago-Hudson, Susan Sullivan, Stana Katic, and Monet Mazur also star.
Fillion recently appeared in ABC's "Desperate Housewives" as Dana Delaney's husband. "Housewives" is televisions most watched drama series.
"Unusuals" is a production of Sony Pictures Television. "Castle" comes from ABC Studios, a division of the Walt Disney Company.
---
One Life to Live
General Hospital
Amber Tamblyn
Nathan Fillion