(SoapOperaNetwork.com) — Get ready "Days of our Lives" fans, the NBC soap opera is gearing up for the networks coverage of the 2008 Summer Olympic Games and they don't want you to miss out on all the action, intrigue and romance that daytime's sexiest soap has to offer.
Beginning the week of August 11, "DAYS" will change gears and center itself on two simultaneous storylines for two weeks that are expected to be shear fun for the everyday soap fan.
"There will be a very exciting film noir piece. It's Nicole's drunken fantasy, and the hospital stuff will be enticing as well," says a "Days of our Lives" spokeswoman.
From what we know, after witnessing a shocking event in the hospital, a drunken Nicole (Arianne Zucker) goes into a fantasy world where the people in her life are transformed into 1940's characters. Included in this storyline are Alison Sweeney (Sami), Bryan Dattilo (Lucas), James Scott (EJ), Nadia Bjorlin (Chloe), Jay Kenneth Johnson (Philip) and Kristen Renton (Morgan). Soap Opera Network has also learned that Dattilo's role will be as Lucas Horton, Private Investigator.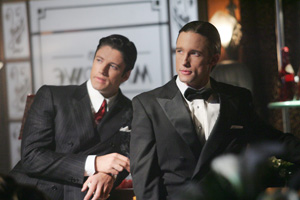 In addition to Zucker, the hospital storyline which kicks everything off includes the likes of Mary Beth Evans (Kayla), Stephen Nichols (Patch), Drake Hogestyn (John), Deidre Hall (Marlena), Joseph Mascolo (Stefano), Thaao Penghlis (Tony), and Leann Hunley (Anna).
According to Soap Opera Digest, after all the fun is over "Days of our Lives" will kick off a set of new and bigger ongoing storylines as the soap gets ready for the fall season.
In case anyone misses out on the fun and the excitement, NBC.com will feature daily episode recaps on its website.