Gabi (Camila Banus) sure can't help herself when it comes to discussing her part, along with Sami (Alison Sweeney) and Kate (Lauren Koslow), in the murder of Nick (Blake Berris). This week, Sonny (Freddie Smith) overhears more than he expected when Gabi reveals all on NBC's "Days of our Lives." Will he turn Will's (Chandler Massey) baby mama in? You"ll have to tune in to find out!

 PHOTO GALLERY 
Filmed in mid-August, episodes airing during the week of November 25 and on Monday, December 2, 2013 of NBC's "Days of our Lives" found Gabi Hernandez (Camila Banus), Kate Roberts (Lauren Koslow) and Sami Brady (Alison Sweeney) seemingly unite for the first time as they worked overtime to hide their role in the apparent death of Nick Fallon (Blake Berris). Just before being hit over the head with a rock, Nick was trying to instigate sexual relations with Ms. Hernandez, who then made it clear that not only wasn't she interested, but it wasn't the time nor the place to get busy. In a recent interview with Soap Opera Network, Koslow gushed over the amount of effort that went into producing the episodes, particularly the river set. "It was kind of amazing what they created on the set," the actress said. "It's like the 90s, because in the 90s we had huge sets. I remember being on a raft, and the raft was on shocks. So we did some crazy stuff back then, and they recreated it for this story. It was actually an adventure."
With director Albert Alarr in charge, here now is a behind the scenes look at the making of a river set on "DAYS."
With nearly 24 minutes in total airtime between them, LANYentertainment released the first two installments of "The Bay: The Series" chapter 11 on the official "Bay" website yesterday. Fans of the series will not only get caught up in the happenings in Bay City, but they'll also get their fill of drama, sex, drugs, romance, deception, murder, and much more.
Halloween 2014 is looking super spooky already: Soap stars Brandon Beemer (ex-Owen Knight, "The Bold and the Beautiful") and Felisha Terrell (ex-Arianna Hernandez, "Days of our Lives") have joined the cast of "Fear Clinic," a horror film based on the successful FearNet.com web series "The Fear Chamber."
The film version follows Robert Englund (Freddy Kruger in the "Nightmare Before Elm Street" franchise) as Dr. Andover, a physician who treats patients afflicted with crippling phobias via hallucinations he creates using his homemade exposure therapy invention, The Fear Chamber. A tragic event sends five people to the good doctor who, while trying to help them overcome their trauma, discovers something very sinister may be at work.
The National Academy of Television Arts & Sciences (NATAS) announced yesterday that it's going to be easier than ever for 41st Annual Daytime Emmy race entrants to submit material and for voters to get their voices heard, as the entire process has shifted to an online space! In addition, entries for this year's awards ceremony are now being accepted, and submission are open in all 81 Daytime categories.
"With six Daytime Dramas ["The Bold and the Beautiful," The Young and the Restless," "General Hospital," "Days of our Lives," "All My Children," and "One Life to Live"] in contention this year, we are thrilled to open the gates for what we expect to be a record year in all Daytime Emmy Award genres," said Malachy Wienges, Chairman, NATAS, in an official press release.  "In addition to adding three new Spanish-language categories, we are implementing a brand new entry/judging system that will allow entrants quick and easy submissions and judges the ability to evaluate nominees at work, at home and just about everywhere else!"
Ratings Report for the Week of November 18-22, 2013
NOTE: Please do not copy and paste the entire ratings.  Thank you.
Numbers are based on Live+Same Day ratings
(Compared to Last Week/Compared to Last Year)
Total Viewers
1. Y&R 4,618,000 (-125,000/+240,000)
2. B&B 3,704,000 (+69,000/+498,000)
3. GH 2,777,000 (-202,000/+18,000)
4. DAYS 2,622,000 (-223,000/+275,000)
Households
1. Y&R 3.3/11 (-.1/+.1)
2. B&B 2.6/9 (same/+.2)
3. GH 2.2/7 (-.1/+.2)
4. DAYS 2.0/7 (-.1/+.2)
The Emmy-nominated online soap opera "The Bay" is back for its 11th chapter, and the sudser's return is expected to be edgier, bigger and better than ever!
All of the fun begins Thursday, December 5, when two brand new installments of the series will stream back to back at 3:15PM ET / 12:15PM PT. Afterward, fans can look forward to new episodes on Thursday, December 12 and Thursday, December 19. And, as a special holiday gift for loyal viewers, a one hour uninterrupted TV pilot will stream on Thursday, December 26!

As we've previously reported, "Days of our Lives" Shawn Christian (Daniel Jonas) and Freddie Smith (Sonny Kiriakis) teamed up with Jack Briggs and Nate Hartley to create "Addicts Anonymous," a single-camera mockumentary, and the comedy series is now available for viewing via the web!
Originally planned for primetime television, the series — which stars Molly Burnett (ex-Melanie Jonas, "DAYS"), Lori Loughlin ("Summerland," "Full House"), Matt Walsh ("Veep," "Ted"), Jerry Lambert ("Shameless," "Family Guy"), Christian, Smith and more — is now being offering via the show's official website. Episode one ("Admitting") and episode two ("Support Buddy") are available now. Subsequent episodes will be released as follows:
Tuesday, December 10: "Mistakes"
Tuesday, December 17: "Boot Camp"
Tuesday, December 24: "Pride"
Tuesday, December 31: "Choices"
"We've all written the scripts together, which is really fantastic," says Christian, who also serves as the executive producer for the series. "We all filmed it together, and it's so funny. It really is just fantastic."

Poor Abigail has been living the single life since the Chad/Cameron debacles on "Days of our Lives," but her portrayer, Kate Mansi, says that won't last for long! In fact, during a recent interview with Soap Opera Network, the gracious actress revealed a few details regarding her alter ego's future love life as well as some insight into what makes Abigail tick. Read on to find out what's in store!
Romance is a hot ticket on soaps; without it, characters rarely see much light of day. But despite that conundrum, Mansi is happy that her alter ego has been functioning on her own as of late. "I like what they're writing right now; she's just getting comfortable with her independence and being single again, which is totally natural," she explains.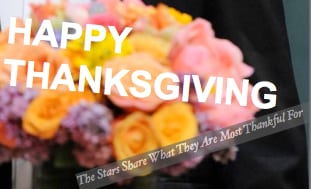 The rest of the country may have been preparing for Thanksgiving by sending out dinner invites, planning menus, buying turkeys, selecting table settings and betting on the day's big game, but Soap Opera Network has been getting ready for the celebratory day in a different way: Reaching out to several of your favorite "Days of our Lives" stars and getting the scoop on what they're most thankful for! Read on for their answers and then join in on the fun by leaving a comment below telling us what you're most grateful for this holiday season!